Celebrated Russian poet Bella Akhmadulina dies at 73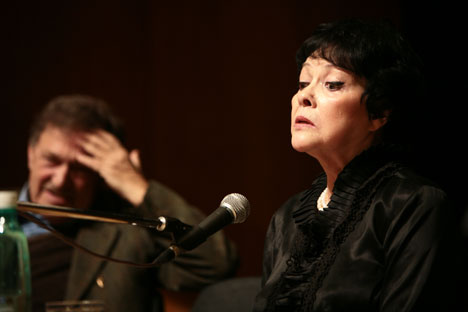 Bella AkhmadulinaSource: RIA Novosti
Bella Akhmadulina, one of the great Russian poets of the 20th century, died Nov. 29 at her home in Peredelkino outside of Moscow. She was 73.

Akhmadulina was born on April 10, 1937 in Moscow. She began writing poetry as a child and joined a local literary club during her school years. After high school, Akhmadulina entered the Moscow Literary Institute and began publishing her writings in literary journals and in the handwritten magazine Syntax. Her first collection of poems, The String, appeared in 1962.

Her work focused on themes of love and friendship and was generally considered apolitical, but she often stood up for the persecuted Soviet intelligentsia. In 1959, Akhmadulina was expelled from the Literary Institute for her refusal to participate in publicly persecuting Boris Pasternak, although she was eventually reinstated and graduated with honors in 1960. She later defended Andrei Sakharov, Lev Kopelev, Georgy Vladimov, and Vladimir Voinovich. Her vindicatory statements were published in The New York Times and were many times read on Radio Liberty and the Voice of America.

Along with her first husband, Yevgeny Yevtushenko, and Andrei Voznesenky, Akhmadulina was regarded among "the poets of the stadium" whose public recitals drew packed halls in the 1960s.

Yevtushenko, who received news of Akhmadulina's death while in the United States, remembered her fondly. "With Bella, Russia has lost another great poet who did justice to [Anna] Akhmatova and [Marina] Tsvetaeva as their artistic heir. Bella was not only an example of dedication to poetry, but also of remarkable civic integrity. She was fearless in raising her voice on behalf of those who fell into disfavor with the authorities," Yevtushenko said.

Akhmadulina works have been translated into multiple languages, including English (Fever and Other New Poems, New York, 1969; The Garden, New York, 1990), German (Musikstunden, Berlin, 1974; Das Gerausch des Verlusts, Leipzig, 1995), Italian (Tenerezza, Parma, 1971; Poesie scelte, Rome, 1993; Poesie, Milan, Spiralli, 1998), French, Serbo-Croatian, Czech, Slovakian, Polish, Hebrew, Bulgarian, Danish, Latvian, Estonian, Georgian, Moldavian, Armenian, Romanian, Kurdish, Arabic and Japanese. In 1977, Akhmadulina was granted honorary membership at the American Academy of Arts and Letters.

Throughout her life, Akhmadulina received many awards, including the Order of Friendship of Peoples (1984), the State Prize of the Soviet Union(1989), the Russian Federation State Prize (2004), the Russian Federation Presidential Award (1998), the Triumph Award (1994), the Pushkin Prize (1994), and international poetry awards Nosside (Italy, 1992) and Brianza (Italy, 1998).

During the last years of her life, Akhmadulina split her time between Peredelkino and Moscow. She is survived by her fourth husband, Boris Messerer and two daughters, Elizaveta and Anna.
All rights reserved by Rossiyskaya Gazeta.