A new document dump by WikiLeaks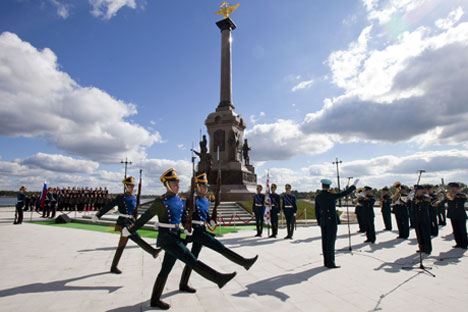 WikiLeaks, which has published hundreds of U.S. war logs, started a pending release of the U.S. Department of State's secret correspondence. The documents contain the U.S. evaluation of the political situation in Russia and the unflattering characteristics of some Russian leaders.
U.S. State Department's Assistant Secretary Philip Crowley said that the possible release would "put national interests at risk." U.S. Secretary of State Hillary Clinton and her deputies started calling to world governments.

"These revelations are harmful to the United States and our interests. They are going to create tension in our relationships between our diplomats and our friends around the world," Crowley said, adding that the United States was prepared for the worst outcome.

Rusian Reporter weekly is the only Russian magazine, along with U.S. and German media, which received WikiLeaks materials in advance to prepare publications and alalysis.

Russia to be guided by actions, not leaked secrets

Russia will base its policies on the concrete actions of its partners rather than the documents leaked by the WikiLeaks whistleblowing website, Foreign Minister Sergei Lavrov said. "WikiLeaks is an amusing read, but in practical politics we are going to be guided by the concrete actions of our partners," he told journalists in New Delhi.

The Russian president's spokeswoman said the leaked documents did not even merit comment. The site disclosed a secret cable sent by the U.S. embassy in Moscow that said Medvedev "plays Robin" to his strongman Prime Minister Vladimir Putin's "Batman." Despite Putin's authoritarian image, there were also suggestions in the documents that the former KGB man was finding it tough to prevent his decisions getting bogged down in Russia's notorious bureaucracy.

The site also released a secret cable from a meeting in Paris in February between U.S. Secretary of Defense Robert Gates and then French Foreign Minister Herve Morin. In it Gates describes Russia in blunt terms: "Russian democracy has disappeared and the government is an oligarchy run by the security services."

"President Medvedev has a more pragmatic vision for Russia than Prime Minister Putin, but there has been little real change," Gates adds.

Putin's ties to his Italian counterpart Silvio Berlusconi also came under scrutiny, with talk of "lavish gifts" and a "shadowy" Russian-speaking Italian go-between.

India not concerned over Wikileaks revelations

India is not concerned over the recent secret documents released by the whistleblower website Wikileaks, the Indian foreign minister said.

While the entire international community strongly condemned the publication of the classified cables from U.S. embassies around the world, including in Moscow, India said it was interested in their further development.

"The Indian government is not really concerned, but we are definitely very interested in finding out what Wikileaks is all about. Because they said that they were going to put on the web 4 million documents. So we are watching with interest," Somanahalli Mallaiah Krishna said.

However, Islamabad slammed WikiLeaks diplomatic cables covering Pakistani nuclear program. "We condemn this irresponsible leak of the secret documents," Dawn News TV channel cited the spokesman for the Pakistani Foreign Minister Abdul Basit as saying.

Wikileaks cited Saudi Arabia's King Abdullah as referring to Pakistani President Asif Ali Zardari, as the greatest obstacle to Islamabad's progress. "When the head is rotten, it affects the whole body," he said.

So, what Wikileaks is all about...

The WikiLeaks website does not have a central office or any paid staff and its operations are run only by a small dedicated team and some 800 volunteers.

Wikileaks' founder, Australian activist Julian Assange, has no home address but he often pops up in Sweden and Iceland, where Internet anonymity is protected by laws. He is being hunted by Pentagon investigators and is suspected of releasing confidential U.S. State Department documents.

The main suspect in the leak of the documents, along with the previous logs, is jailed U.S. Private Bradley Manning, who had top-secret clearance as an intelligence analyst for the Army when he was stationed in Iraq. Pentagon investigators believe Manning accessed a worldwide military classified Internet and e-mail system to download the documents.

Manning, 22, was charged in June with several violations of the U.S. Criminal Code for allegedly transferring classified data without authorization.
All rights reserved by Rossiyskaya Gazeta.