Russia offers Amur class submarines to India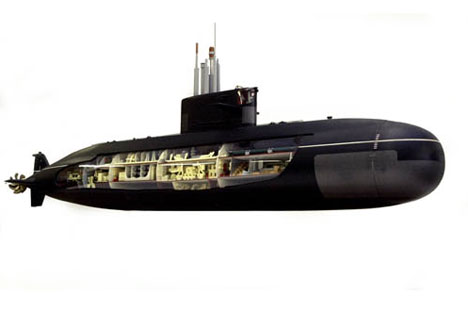 Amur-1650 class submarine. Source: ITAR_TASS
India is vying to purchase six non-nuclear submarines to boost up its undersea warfare capability. The deal may be expanded by acquiring the know-how to build more such submarines at Indian shipyards, DNA reports.

The Indian Navy has already sent requests for technical specifications to a number of countries including Russia, Germany, Spain and France who have already shown interest in the deal. Russia's biggest arms trader Rosoboronexport said it would bid for the tender.

As part of project 751, Indian Navy proposes to have a undersea force of 24 submarines by 2015. India already has 10 Kilo-class submarines and has set up a line to manufacture French Scorpene Submarines at Mazagoan docks in Mumbai, the first of these submarines are expected to roll out by 2012.

Rosoboronexport is offering the Amur class submarines, which are an upgraded version of Indian Navy's Kilo-class submarines. With the speed of 20 knots, the Amur is designed for both anti-submarine and anti-surface warfare. Its armaments include 16 tube launched torpedoes and also has a capability of launching cruise missiles .

The Amur 1650 submarine has been developed by the Rubin Central Design Bureau of Naval Technology on the basis of the Kilo-class diesel-electric submarines, the most low-noise submarines in the world.

The sonar signature level of the submarines of this class is several times lower in comparison with Kilo-class submarines. These submarines are equipped with radio-electronic weapons of the newer generation created on the basis of the latest achievements in the field of radio-electronics.

The new submarine is equipped with 6 torpedo tubes and can take a crew of 35 people. Its depth of submergence is 300 metres, and its endurance is 45 days.

Rosoboronexport officials were quoted by TASS as saying that the submarine could be fitted with AIP fuel cells to considerably improve its submergence endurance and range. "The company will surely take part in the tender, and it will bid with its Amur 1650 non-nuclear submarine," an official said.
All rights reserved by Rossiyskaya Gazeta.