Celtic fan base sprouts in Urals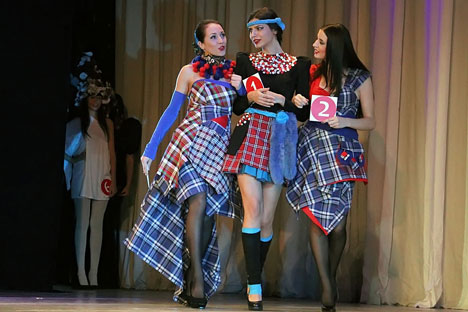 Tartan like never before: designers in Yekaterinburg let thebrakes off convention for the Urals-Scottish fashion showPhoto by Tatiana Andreeva
They've even got a new Russian word for it: "RuSco" denotes the curious intersection of Scottish and local culture that has sprung up in the Urals, better known for mineral wealth and tank factories than borscht sharing a table with haggis.

But at a recent festival organised by the Urals-Scottish Society in Yekaterinburg, local designers launched a new fad known as "RuSco style", a curious blend of influences from both lands.

"Our designs were an experimental attempt to combine the seemingly incompatible," said fashion show organiser Yelena Zhivina, adding that none of the lines is on sale yet. But it is not just the tartan look that fascinates here. The Urals-Scottish society grew from a hard core of Scotland buffs who insist the cultures connect in more ways than meets the eye.

"We have a lot in common with the Scots," says Boris Petrov, the society's president. "Russian history was influenced by many great Scotsmen, and the Russians have left their mark on Scottish history. We have common Scythian-Celtic roots, we both like hard liquor and colourful expressions, our national characters are rugged and friendly at the same time, and our folk music and instruments are similar."

Comprising a nucleus of 30 members and with hundreds of visitors attending its events, the Urals-Scottish society was founded after what seemed a small episode, the unveiling in 2009 of a memorial to Sir Roderick Murchison, a 19th-century Scottish geologist who travelled the Chusovaya river during surveys of the region.

The idea of a closer cultural dialogue caught on, resulting in the music and gourmet festival that ended on November 2.

Not even the astute Murchison would have guessed what now looks likely to follow: tourism chiefs have plans for an authentic "Scottish village" on the banks of the Chusovaya river.
All rights reserved by Rossiyskaya Gazeta.