Offerings seen as a way forward, but investors hesitate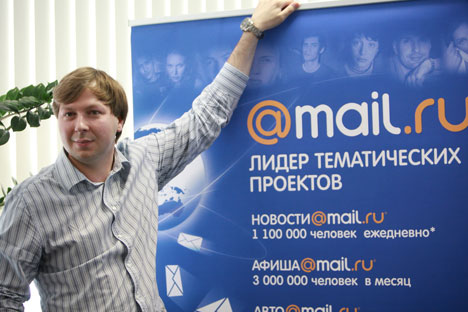 A bullish stance to his internet group's IPO in London thismonth paid off for Mail.ru general director Dmitry GrishinSource: RIA Novosti
At the start of 2010, as much as $20bn worth of Russian stock was expected to go public. However, with equities stubbornly refusing to follow bond markets – which have been winding tighter for more than a year now – the market has seen just $3bn or so of this equity.

The tap is now turning back on. On the one hand, some companies have run out of wriggle room and can no longer avoid having to hunt cash to reduce their debt. For most, the bond markets are still too expensive, and the banks are tightening requirements on borrowers. As Peter Westin, chief equity strategist at investment bank Aton, suggests: "In short, to some extent it's a natural process as we come out of the economic crisis."

Yet others clearly sense that emerging market investors are finally ready to cash in the profits they've made in markets such as China, India, South Africa and Turkey to take a chance on Russia's cheap stocks. As Chris Weafer, chief strategist at Uralsib, wrote on October 29, over the previous week, Russian funds attracted the highest inflows of any emerging market for the first time since May.

Tom Mundy, chief strategist at Otkritie Financial Corporation, says: "There's already cash on the sidelines that could be tempted by some of these offers."

That money won't rush willy-nilly into these deals, however. Investors remain wary of Russian IPOs, and with good reason: their track record is horrendous. "I think the market will be very cynical," says Mr Mundy.

In fact, at the end of October, not a single Russian company that listed in 2010 was currently trading above its issue price. IRC, which was first out of the gate in October, found out quickly just how suspicious investors remain: the non-precious metals division of Petropavlovsk slashed its proposed $500m offer in Hong Kong by 50pc in the face of low bids.

Some suggest that the offer suffered from a lack of enthusiasm for Russia's opaque and heavily taxed natural resources sectors. "[They've] pulled down the [price/earnings] ratio for a while," says Mr Westin. "If you believe in the oil price, you don't go for Russian oil companies, you go for the domestic-facing names" – especially as they too now offer "a significant discount to emerging-market peers". Mr Mundy picks out retailer O'Key as one of the most interesting names. "Retail is a sector that people want exposure to – there are relatively few names to choose from, and consumption numbers are rising thanks to the government's financial support."

Indeed, although some analysts continue to suggest that the St Petersburg grocery retailer looked 5pc above its fair value, even at the bottom of its proposed pricing range of $9.9-$12.9 per GDR, the company managed to close the bid book on November 2 at $11.00 – a much better performance than any other issuer so far this year. That said, the company still fell 17pc short of the $540m it had originally hoped for.

Most bullish of the whole batch has been internet group Mail.ru, whose initial pricing range for its debut in London values the company "notably higher than most international peers", according to Konstantin Chernyshev of Uralsib.

However, driven by the company's positioning as a high-calibre tech stock, and offering exposure to both the consumption story and "Russia's human capital" suggests Mr Mundy, the bid book was filled towards the top of the range in early November.

Yet at the same time, others continue to struggle with the persistent gap between expectations and the refusal of investors to pay top dollar. "Companies have to come to the market with transparency and a healthy discount," Mr Mundy warns, "then some of these sales should go well." The same mantra was heard at the start of the year, but, after the first few issues proved the point, the pipeline promptly dried up.

It seems unlikely then that every one of the companies that have announced plans to list in the near term will actually go through with it.

However, with a $50bn privatisation programme pencilled in for 2011-15, it may be the only opportunity many will get.
All rights reserved by Rossiyskaya Gazeta.