Pepsi to acquire Russia's Wimm-Bill-Dann (+video)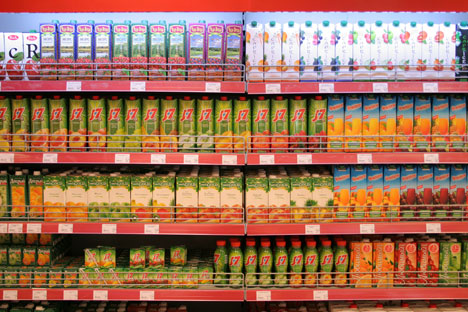 PepsiCo, Inc. has agreed a staggered deal to buy Wimm-Bill-Dann. The terms of the deal imply an enterprise value of $5.4 billion, which represents a premium of 32 percent to the juice and dairy producer's 30-day average trading price of ADR shares, according to a press release from PepsiCo. The news has seen shares of Wimm-Bill-Dann leap by 27 percent in Moscow.

Pepsi has been locked in a battle with its old foe Coca-Cola for prominence in Russia for over a decade, as the giants count on emerging markets to make up for slow growth elsewhere. As has been illustrated by the recent spate of IPOs out of Russia, recovering consumer spending is rapidly becoming the most attractive element for investors looking for options beyond the more traditional raw materials and heavy industry. However, Russian companies are more than aware of their allure. According to a Reuters report, French food giant Groupe Danone SA sold its 18 percent stake in Wimm-Bill-Dann in June for a price that valued the company at a $2.5 billion. Brokers were estimating a maximum valuation of $4 billion in any purchase of Wimm-Bill-Dann as recently as October.

Wimm-Bill-Dann is a leader in both traditional and value-added dairy products, with a solid position in juice. The transaction will establish PepsiCo as the largest food-and-beverage business in Russia, make it a leader in the country's fast-growing dairy category and build its presence in key markets in Eastern Europe and Central Asia. It also will raise PepsiCo's annual global revenues from nutritious and functional foods from approximately $10 billion today to nearly $13 billion. This moves the company closer to its strategic goal of building a $30 billion nutrition business by 2020.

"Adding Wimm-Bill-Dann to PepsiCo's portfolio is financially attractive and gives us a strong, high-growth platform in the dairy category," said Indra Nooyi, PepsiCo chairman and chief executive officer. "It also gives us clear leadership in the food-and-beverage industry in Russia, a fast-growing, strategically important market offering abundant opportunity."

"Wimm-Bill-Dann is a terrific business with significant opportunities," said Zein Abdalla, chief executive officer of PepsiCo Europe. "Wimm-Bill-Dann's management team has built an outstanding portfolio of market-leading dairy and juice brands that are loved by consumers across Russia. The combination of Wimm-Bill-Dann and PepsiCo Russia will create a powerhouse business in terms of scale, brand portfolio and system capabilities with the potential to be leveraged across the broader East European and Central Asian region."

Sergei Plastinin, chairman of the Wimm-Bill-Dann board of directors and one of the shareholders who agreed to sell shares to PepsiCo, said: "The agreement reached with PepsiCo is a historic one for both our company and our country. Wimm-Bill-Dann was founded just 18 years ago with a handful of employees. Today we have over 16,000 people and 38 production facilities. This represents a tremendous vote of confidence in the future of the Russian market."

Upon completion of the full Wimm-Bill-Dann acquisition, PepsiCo's brands will rank first among food and beverage companies operating in Russia, with approximately $5 billion in revenue. PepsiCo will employ approximately 31,000 people in Russia, Ukraine and Central Asia and have 49 manufacturing facilities, making the company one of the largest food and beverage employers in the region.
---


CNN's Matthew Chance sat down with PepsiCo CEO Indra Nooyi to see how she handles Russia's business climate.
All rights reserved by Rossiyskaya Gazeta.