Russia to host 2018 world cup (video)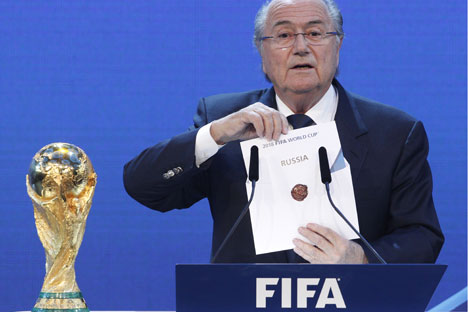 Russia has been chosen to host the 2018 World Cup following a tense day of lobbying and voting in Switzerland.

FIFA President Joseph S. Blatter announced the decision in Zurich at 4:30 pm local time, giving Russia the right to host the world's biggest sporting event for the first time. Going into the vote, Russia was considered a slight favorite. The country made its presentation to FIFA's 22 executive committee members last, after the other 2018 finalists: Belgium/the Netherlands, Spain/Portugal and England.

The decision offers another huge boost for Russia's national prestige as it comes on the heels of the 2014 Winter Olympics in Sochi and the recent announcement of the country's first ever Formula 1 Grand Prix races starting in 2012.

Deputy Prime Minister Igor Shuvalov, holding the World Cup trophy, told delegates at FIFA's Zurich headquarters: "You have entrusted us with the FIFA World Cup for 2018. I can promise – we all can promise – that you will not regret this. Let's make history together!" Earlier, Shuvalov told FIFA representatives that hosting the World Cup would help make Russia a "completely different nation." "Without your help we will achieve our goals – but with your help, we will achieve much more. It's going to be completely different nation, open to the entire world," Shuvalov said.

Russian Prime Minister Vladimir Putin did not join the Russian delegation in Switzerland saying that he did not want put pressure on the FIFA executives making the decision, but was expected to fly to Zurich following the Russian win.

In an interview with Sovetsky Sport on Nov. 29, Russia's national team coach Dick Advocaat said that winning the cup was important for Russian soccer. "I hope that we will win the right to host the Cup. It will give a significant boost to the development of football in the country. I am sure that such a huge country," Advocaat said.

Despite concerns that the bulk of the bid was still at the planning stages, high-level political backing for the project convinced delegates that Russia would deliver the 13 brand new stadiums intended to host the competition. A heartfelt final pitch, which combined schoolboy dreams of sporting glory with the hard-headed pragmatism of visa relaxation and free internal travel for fans, was enough to swing any wavering votes Russia's way.

After a campaign riddled with allegations of corruption, there will be plenty who assume Russia has bribed its way to success, and the next eight years are likely to lead to intense international media scrutiny of how the ambitious World Cup project will be converted to reality. But for now, Russian fans are simply enjoying the moment and hailing a famous off-field triumph – while dreaming of greater glories to come on their home turf.
All rights reserved by Rossiyskaya Gazeta.