Russia scores a hatrick as it wins right to host 2018 World Cup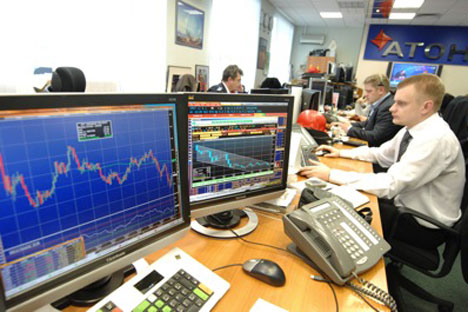 Moscow's Luzhniki Stadium is currently theonly one in Russia that meets all internationalcriteriaSource: Itar-Tass
With the 2014 Winter Olympics in the bag, and Formula 1 to pull up at the starting grid the same year, Russia has now scored a hatrick of international sporting events over the last few years. However, this latest victory heavily outguns the others, being second only to the Olympics in terms of prestige and international attention.

Hosting the competition is not just a pep pill for Russian football, but will offer a huge boost to the country's crumbling infrastructure, as the government has made huge commitments in the bid to upgrade transport and tourism facilities, as well as the 15 world-class stadiums it needs to build in the next eight years.

As Chris Weafer of Uralsib put it in a note this week: "Importantly, the 2018 World Cup would dominate the agenda of the next government (2012-2018) and, to a much greater extent than the Sochi Winter Olympics, would impose a strict deadline for modernization plans. Several million foreign tourists would turn up in June 2018 and would expect international standard facilities and services. Several billion people would watch on live TV. The government would have to ensure not only modern stadiums but hotels, roads, airports, communications and a reliable power supply. No doubt about it, while the cost would likely run into the tens of billions, World Cup 2018 would inject a great deal more urgency – and a stricter timeline - into the government's modernization program."

The government will need to find tens of billions of dollars to achieve all of this, and as with any such international tournament, there's no guarantee that it won't end up out of pocket, despite the massive income for tourism and retail operators.

At the same time, as recent hosts have found, the non-monetary benefits can be huge, and Russia could certainly do with the PR that a successful World Cup could offer. In 2006, Germany transformed its image from somewhat dour and overly-serious into a nation of smiling hosts welcoming the world to party-packed streets.

Meanwhile, this year's tournament transformed South Africa from a crime-ridden hell where no sensible football supporter should even dream of leaving the main drag into a "normal" country, albeit with a very annoying penchant for blaring plastic horns.

The government has already promised free visas and heavily subsidized transport for fans traveling the huge distances between the host cities, which are divided into five hubs in European Russia, with Yekatrinberg the only venue across the Urals.
All rights reserved by Rossiyskaya Gazeta.