Russia to secure global uranium supplies with a new fuel bank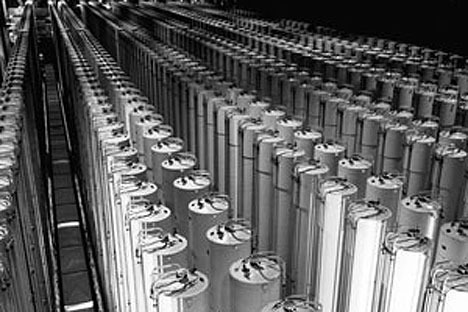 Russia has stockpiled 120 tons of reactor-grade uranium at the Angarsk Enrichment Plant in order to ensure the fail-safe operation of nuclear power plants in countries that do not have access to enrichment technology, reported the Interfax news agency citing a Rosatom press release. The uranium is part of a fuel bank located at the International Uranium Enrichment Center (IUEC) in Angarsk, which was established under the safeguards of the International Atomic Energy Agency (IAEA) to provide secure global fuel supplies.

The Angarsk center is the first fuel bank of its kind. It holds 120 tons of low-enriched uranium hexafluoride with a U-235 assay ranging from 2 percent to 4.95 percent. About a third of the stockpile consists of uranium enriched to 4.95 percent. According to Rosatom, the reserve is sufficient to provide fuel for two complete reloads of a 1000 MWe light-water reactor.

The creation of the IUEC and fuel bank was initiated by Russia with the aim of building a global nuclear industry infrastructure in compliance with non-proliferation provisions. The respective agreement between Rosatom and the IAEA to establish and maintain the guaranteed reserve was signed in March. The agreement calls for Russia to finance the entire project.

"Russia put forward the idea of creating a guaranteed uranium fuel reserve," said a spokesman for Rosatom. "Its primary goal is to address concerns of counties that intend to start building nuclear power stations, but do not have enrichment capabilities."

Uranium ore has to be enriched before it can be used to power reactors. Enrichment technology is based on ion separation in cascaded centrifuges. The major global concern over this process lies in the inherent ability to use the same equipment for enriching uranium to various grades. Non-weapons grade uranium requires enrichment to 4 percent or less, while weapons-grade uranium must be enriched up to 20 percent enrichment.

This concept of outsourcing uranium enrichment services was developed by Russia and other developed countries as a way to provide fuel for nuclear plants while preventing nuclear weapons proliferation. Some developing nations voiced their objections to the plan stating that under this arrangement, their nuclear power programs would hinge on the political aspirations and will of the small group of states that possess enrichment technology. Given this situation, should a developing country be denied the opportunity to enrich uranium, it could be forced to shut down hugely expensive nuclear power facilities.

To assuage worries over fuel supplies, Russia proposed setting up a guaranteed reserve of reactor-grade nuclear fuel that could be sold at market prices to any country turned down by nuclear powers. These contingency supplies will be subject to approval by the IAEA, which oversees the project.

According to a source at Rosatom, the associated costs will be negligible for the state corporation. "The Angarsk Enrichment Plant has plenty of available storage space," said the source.

Apart from generating additional revenues from uranium sales, Rosatom will also boost its international image. "The state corporation will effectively guarantee access to peaceful nuclear power on a global scale," said a source at Rosatom.

This article originally appeared in Russian in the business daily "Vzglyad."
All rights reserved by Rossiyskaya Gazeta.