Russia-EU summit to focus on the economy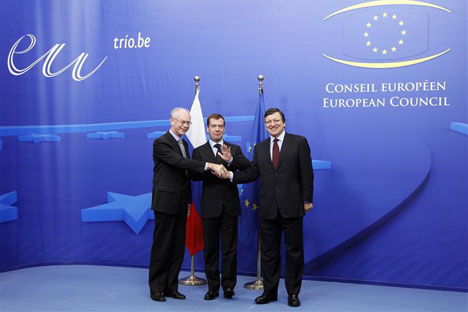 Source: Reuters/Vostock Photo
The 26th Russia-EU Summit is taking place in Brussels today. At the G20 meeting in Seoul in November, the presidents of the European Commission and the European Council made public the list of priorities they hope to tackle with their Russian counterparts, stressing in particular "decisive progress on Russia's accession to the World Trade Organization (WTO)," as well as "some outstanding bilateral issues, such as trade, investment and cooperation in the energy sector." European Commission President José Manuel Barroso and European Council President Herman Van Rompuy also addressed the importance of enhancing "the efficiency of crisis-management cooperation on the basis of a comprehensive approach to security issues, including frozen conflicts."

Additionally, European leaders expressed their desire to see progress in efforts to do away with mutual visa requirements between Russia and the EU. Officially, France expressed its desire to make rapid progress on the issue; Germany made a similar statement, but is insisting on reciprocal limits.

Russian leaders plan to highlight the importance of making progress in economic and commercial areas. On Dec. 1, Russian Ambassador to the EU Vladimir Chizhov stressed Prime Minister Vladimir Putin's proposal for a "harmonious community of economies from Lisbon to Vladivostok," a suggestion the German press dubbed an "EU-Russian common market." Russia's entry into the WTO would, in effect, be the first step in this vision.

According to EU Trade Commissioner Karel De Gucht, the matter of Russia's entry still faces several obstacles, including overflight payments for flights over Siberia and Moscow's strict meat import regime. De Gucht noted, however, that a deal signed in late November to gradually phase out Russian export tariffs on raw materials was a step forward.

Relations between Russian and European institutions currently fall under the Partnership and Cooperation Agreement signed in 1994, which has been in effect since 1997. In principle, this deal expired in December 2007 and although the partners have agreed to draft a new document, several countries within the EU have been aggressively fighting the move. This was notably the case with Poland, whose leadership has traditionally viewed Russia as its hereditary enemy. However, the Polish government has recently indicated a willingness to adapt its view.

Formal negotiations on a new agreement between Russia and the EU were begun in June 2008 during a summit in the Russian region of Khanty-Mansiisk, and although there have been roughly a dozen meetings since, the signing of a new treaty remains a distant goal. The spread of the economic crisis, however, has been a boost for those seeking stable, long-term cooperation. Europeans are particularly aware of their dependence on Russian energy. The idea of bypassing Russian pipelines, a strategy favored by some, has proven to be unfeasible. In addition, German companies have never lost sight of the importance of Russia for their trade and investments.

For Russia's part, the crisis focused attention on certain domestic weaknesses. As part of the Russian Encounters event on Oct. 21, Economic Development Minister Elvira Nabiullina spoke of the necessity of improving productivity and of innovation in the aeronautical, automotive, naval construction and agriculture industries. Prime Minister Vladimir Putin's government also recently announced a major privatization program that may tempt big European consortiums.

Despite challenges, economic realities remain the driving force behind revitalized EU-Russian relations. After a disastrous 2008 and slow 2009, the Russian economy enjoyed a 5 percent increase in annual growth during the first quarter of 2010. An EU-Russia "Partnership for Modernization" was launched in November 2009 in Stockholm with the goal of helping to diversify the Russian economy, in particular with a huge push for the use of new technologies, and in October 2010, French Minister of State for Foreign Trade Anne-Marie Idrac, called Russia's economic development "the start of a new cycle" during the informal France-Germany-Russia summit that took place in Deauville, France.

However, despite repeated calls to "speak with one voice," the interests of member states within the EU are far from harmonious; a situation that, according to the complaints of certain EU observers, will likely encourage the Russian leadership to stand its ground in bilateral talks.
All rights reserved by Rossiyskaya Gazeta.