World Cup to help Russia kick oil habit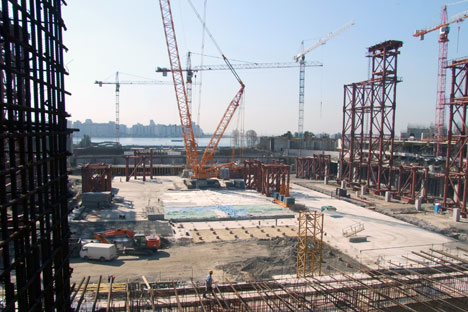 Merrill Lynch analysts wrote that they had always kept an eye on the economic cycle when investing in Russia. Inert reforms and the country's oil addiction were reasons enough to tread carefully. Indeed, at the height of the financial crisis the Russian stock market fell further than many others, but Russian indices then outperformed many others during the gradual recovery in 2009.

The situation, however, could change dramatically, analysts believe. "Our having visited Russia and spoken with regional representatives from multinational corporations has given us the confidence that the likelihood of reform is now somewhat higher," Merrill Lynch's analysts stated. They also believe that the time has come to break out of the "cycle concept" now that Russia has won its bid for the 2018 FIFA World Cup and that mergers and acquisitions (M&A) in the consumer sector are picking up. The 2018 milestone could well become the turning point for Russian reforms.

Investors will be focusing on companies that stand to generate additional returns from the 2018 World Cup. Moreover, Merrill Lynch also points out the importance of revising Russia's macroeconomic forecast because of this event. The investment bank's analysts recommend buying Russian equities, while noting that Sberbank, Magnitogorsk Metals, LSR, and X5 will benefit the most from the World Cup. At the same time, AFI, Gazprom, FSK, STS Media, Globaltrans, and MTS have been removed from Merrill Lynch's top-picks list.

Merrill Lynch says that Brazil and South African, both former World Cup host nations, saw their stock markets outperform a number of the world's fastest growing economies (India, Russia, China) after winning their respective bids. Troika Dialog analysts also have not forgotten the situation in those two countries; they predicted that the market would respond immediately: "Russia's winning the right to host the 2018 World Cup is altogether capable of becoming a catalyst for a holiday rally. This could make investors really believe that the country's economy is headed in the right direction."

"Frankly, I believe this event has only an indirect impact on structural reforms, although there's some logic to it, too. Hosting large-scale events requires good infrastructure and sports facilities, good trains, airplanes, and airports – and the investment to make it all possible. For them to be built efficiently and on time, a high-quality management system and forthright tenders are an absolute must," said Vladimir Savov, Head of Research at Otkritie bank.

Apart from the World Cup, there are other drivers of structural reforms. "The financial crisis has shown that changes are long overdue, and this is well understood during discussions, including with government officials. There are ongoing exchanges about the best way to go about reform, what's required from the budget and how to spend it. Two years ago it seemed as though the never-ending oil-revenue bonanza was infinite, but now everyone has realized it's impossible to count solely on commodity exports," Savov said.

Prime Minister Vladimir Putin announced this past September at the Sochi International Investment Forum that the government intends to stop putting all of its eggs in one basket. "We plan to cut oil and natural gas revenues and, on the contrary, increase revenues from sectors outside oil & natural gas, despite our already having become the world's number one oil producer after overtaking Saudi Arabia," Putin said.
All rights reserved by Rossiyskaya Gazeta.