Racism fears grow for 2018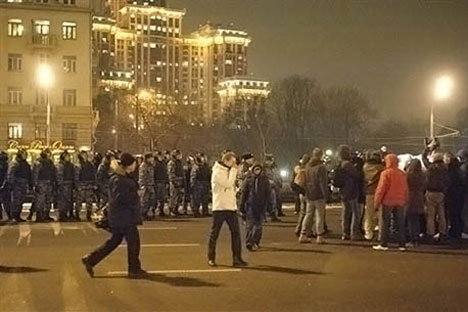 About 500 fans of the Spartak football team blocked a highway in Moscowdemanding a thorough investigation into the death of a fellow fan Yegor Sviridov.Source: daylife
At night December, 7 protest had 1,000 football fans blocking Leningradsky Prospekt as police stood by, raising questions about how law enforcement will ensure security for the championship, which is expected to attract millions of fans from around the world.

The unrest was sparked by the death of Yegor Sviridov, who was shot on the night of December, 6 in a mass street brawl between natives of the North Caucasus and local football fans. Police initially released five of six detained suspects in the shooting, sparking an outrage in the Fratria, or Brotherhood, movement of Spartak club fans, who appealed to prosecutors to catch the culprits and called for December, 7 rally.

The protest was ostensibly planned as a peaceful memorial in honour of Sviridov, but turned more aggressive as fans blocked the busy highway and started shouting "Russia for Russians!" and "Moscow for Muscovites," according to videos posted on YouTube. Some fans were seen smashing kiosks and ad signs, news agencies reported. In contrast, Moscow police spokesman Viktor Biryukov insisted that there were no reports of violence or vandalism.

Football fans were planning several rallies over the weekend in wake of Sviridov's shooting. Meanwhile, Spartak fans in Zilina, Slovakia, disrupted their team's European Champions League match with flares and fireworks.

Investigation

The outcry has led police to take a more active stance. Six people were detained, including Aslan Cherkesov, from the North Caucasus republic of Kabardino-Balkaria. Police initially decided to release everyone but Cherkesov, but issued a warrant to detain the other men December, 8.

Next day the Investigative Committee was questioning the police "in connection to their inaction," according to a statement published on the Committee's web site.

Meanwhile, Cherkesov, who claimed that he was shooting in self-defence, was charged with murder the other day. "He was attacked, with his face pressed against a car bumper, and he was shooting back blindly without seeing where the gun was pointed. He didn't want to kill anybody," Cherkesov's lawyer, Vera Goncharova, was quoted by Itar-Tass as saying.

Official response

Russia's official football organizations – the Russian Football Union and the All-Russian Union of Supporters – issued a joint statement criticizing police inaction in the Sviridov murder but also condemning rowdy fans for unsanctioned rallies.

"We understand the indignation of Spartak fans over the rather strange behavior of prosecutors," a statement said. " At the same time we find yesterday's behavior of Spartak fans unacceptable."
The organizations were both concerned that activists from DPNI – the ultranationalist Movement Against Illegal Immigration – were intervening in the row.


World Cup preparations

The incidents underscore mounting concern over security and ethnic tensions ahead of the World Cup, reflecting a link that still remains between football fans and nationalist groups. But while officials said a mix of tolerance programmes and security measures are being developed, it wasn't clear to what extent these would target racial tensions specifically.

"A large number of tolerance measures were outlined in the World Cup bid," a source in the bid team told The Moscow News. The Russian Football Union adopted a memorandum last month that would launch a tolerance programme for football fans starting in 2012. December, 9 it held a conference with police, FSB officers and fans to develop security measures ahead of the games. But representatives of the Union could not immediately elaborate on the programmes.

"It's eight years until the Championship, and a new generation of football fans will grow up by that time," Alexander Shprygin, head of the All-Russian Union of Supporters, told The Moscow News. He was sceptical that ethnic tensions would be a problem at that point, but indicated that football organizations were taking the matter seriously.

"Of course there are targeted programs by the Football Union and there will be programs by the Youth Ministry, because this is a government priority, and the government gave FIFA certain guarantees in its bid," he said.


Football and racism

Independent experts say there is a strong link between violent football fans and racist groups in Russia. "There is a direct connection between these incidents and the World Cup bid," Galina Kozhevnikova, an expert with Sova, a group that monitors hate crimes, told The Moscow News. She noted that this week's incidents were practically identical to an episode this summer, when fans protested over the murder of Spartak fan Yury Volkov.

"During the rallies this summer it was strictly forbidden to shout any Russian nationalist slogans," she said. "Ultranationalists were present, but as soon as they started shouting slogans, they were immediately kicked out." Kozhevnikova believes this was the result of an agreement between these fans and the Moscow police, precisely because Russia was still a bidder for the World Cup. Now, "we have already won the bid, so why make agreements and deny that racism exists?" she said.

Kozhevnikova was sceptical that official tolerance programs would work, saying that police would most likely resort to extra-judicial measures of warning or threatening fans and groups that they are in contact with. Noting a number of beatings of police by football fans, she said that fear, and not ideological support, was behind police inaction during this week's unrest.
All rights reserved by Rossiyskaya Gazeta.