Russia and India: Sister Orphanages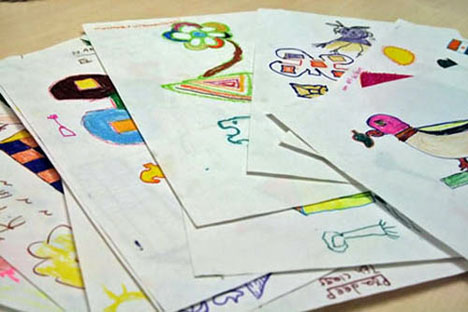 The Russia and India: Sister Orphanages project was created thanks in part to 'Children as Children' Foundation's educational programme, sponsored by Russian businessmen Pavel Shishkin and Vladimir Vorobyev. The foundation's Director Oksana Galagan has taken it upon herself to act as an intermediary between the kids. Thanks to her, Russian and Indian children living 6,000 km apart have been able to exchange drawings, photos and letters, in which they tell stories about their lives, hobbies, families and countries… All of them are eagerly looking forward to new mail Oksana brings and translates for them.

How orphans live:

India: At the foot of a mountain in the state of Andhra Pradesh stands a small village of Karnatanagepalli, which is home to the Sri Sai Krupa English Medium School. A few years ago a young teacher, O. Sathyanarayana, set up the boarding school for elementary-aged orphans in his native village. Different people, including many Russian citizens, help finance the school with charitable donations. They come to Puttaparthy to visit Sai Baba, a guru who enjoys immense popularity in Russia, and to try and prove their commitment to his teachings through deeds rather than words. 25 orphans aged between four and 12 years are currently boarded at the school, while another 35 children from poor village families come to study there. The ground floor has two rooms where children study and eat during the day and sleep at night. On the first floor there are the principal's office, maintenance facilities and a kitchen. The modest accommodations do not spoil the residents' mood: children and adults alike are always wearing smiles and their eyes reflect a keen interest. The small citizens of a large country lead normal and fulfilling lives, studying, playing outdoor games, celebrating India's national holidays, and learning the songs and dances of their rich culture.
Russia: The boarding school for orphans in the settlement of Zelyony, 230 km from Moscow in the Tver Region, stands in a beautiful pine forest. The school provides board and an education to more than 100 neighborhood children from seven to 18 years of age. This boarding school caters to special-needs orphans suffering from mental illnesses. Apart from the regular curriculum, attention is paid to vocational training and music. The children take part in district and regional contests and pageants and are active in sports. Soccer, volleyball, basketball are their sports of choice, and they always compete in regional sporting events. The kids spend their free time listening to the music, playing board games, or playing hockey and skating in the wintertime. Alumni like to visit their school and teachers to tell their life stories, share a joyful moment, or ask for advice.


Foundation members provide the children in Russia and India with the joy of as much human communication as they can. Both sides appreciate this international friendship. Each visit becomes a special occasion for the kids: few of their peers can boast of having a friend in another country. Back when the correspondence started, Russian boys and girls were incredulous to the point of asking time and again: "Is it true that I have a friend named Mahendra in India?" But when Natasha receives a letter and a drawing from Lakshmi or Krishna sends a picture of flowers to Katya, all their doubts go away. Natasha immediately sits down to draw a reply to Lakshmi and Katya starts writing a letter to Krishna. It's hard to overestimate the amount of emotions those children get... Such interaction with peers living at other orphanages helps them overcome feelings of isolation and loneliness, expands their horizons and develops communication skills. Hence, the foundation will do its best to keep this friendly exchange going.



Sri Sai Krupa School

Foundation Director Oksana Galagan:
Although we came to visit on a weekend, the kids were seated on the stone floor and studying diligently. They were very glad to see us and even sang a few joyful songs for us. We brought a photo album with pictures from our previous visit. After the pictures were looked at with much excitement, we gave them another surprise: a layout of the Children as Children magazine featuring many stories about their school. We also gave them letters and drawings from Russian orphans, translated the messages and best wishes from Russian into English, and Principal Sathyanarayana translated them into Telugu. After that, the kids broke up into small groups and started writing and drawing return messages to the Russian children. You didn't need an interpreter to realize how excited and happy they were. Adult Indian teachers translated for us a question the children asked: "When a reply from the Russian kids will come? We can't wait to get a response from Russia." As we were about to leave, the kids gave us a whole bunch of drawings to take home to the Russian children.



The school for orphans Zelyony


Foundation Director Oksana Galagan:
At the beginning we told kids about an orphanage in far-away India, about how children live there and what they do, described India and its nature, and finally showed drawings by the Indian kids and their photos sent as greetings to the Russian children. Everybody was listening attentively, reacting with excitement as his or her names were called out. Naresh invited Olya to visit India; Mahendra told Vasya about his hobbies; and Ashok described himself in detail and drew a huge flower, which he dedicated "to Natasha." The vivid drawings by the Indian children reflected all the colours of their native land… Everybody wanted to send a personal reply to India. The kids spent two hours drawing cards on which they tried to picture the Russian landscape with birch trees, their school, their homes, little hearts, etc. Most importantly, everybody was really involved, signing and addressing the messages to a specific person. One girl asked: "Can we really call them our friends now?!" We took a photo of each one of them with their own drawing intended for their personal Indian friend, and then made a group picture. Children on the Subcontinent are already waiting for those friendly letters and photos. We certainly won't disappoint them, and the Indian boys and girls will soon receive those messages from their Russian peers.


Contacts:


THE SCHOOL FOR ORPHANS 'ZELYONY'
RUSSIA 172069
TVERSKAYA OBLAST'
TORZHOKSKY RAYON
POSYOLOK ZELYONY

Mistchenkova Antonina Alexandrovna (Director)
Ph. +7 (48251) 6-46-42
SRI SAI KRUPA ENGLISH MEDIUM SCHOOL
DOOR NO: 4-123 A, BABA QUARTERS
KARNATANAGEPALLI (Vi.)
PUTTAPARTHY (P & Mdl.) - 515134
Anantapur Dist. A.P. India

O.Sathyanarayana (Director & Principal)
Mobile: +91-9440782014
Ph. +91-948555-289024
E-mail: saikrupaschool2001@yahoo.com




All rights reserved by Rossiyskaya Gazeta.