Russian wings in the Indian skies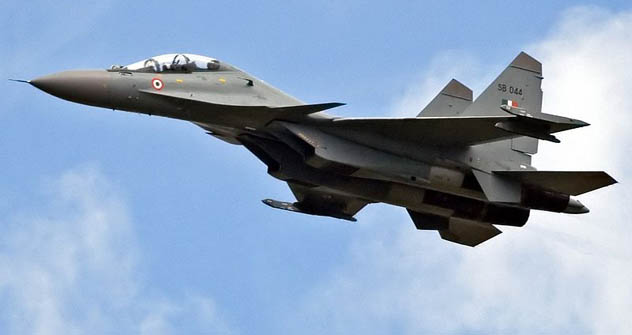 SU-30MKI. Source: Wikimedia Commons
A cutting-edge fifth-generation fighter jet is in the works as part of a joint project between United Aircraft Corporation (UАC) and Hindustan Aeronautics Limited (HAL).
For decades, India has been buying Russian aircraft, both military and civil. A number of military aircraft has been produced at Indian plants under Russian licences. The first model designed specifically for India was the SU-30MKI heavy multirole fighter (MKI stands for Modernised Commercial Indian).
The first SU-30MKI contract was signed in 1996 and was followed by new orders in 2000, 2004 and 2007. The prime contractor in Russia has been IRKUT Corporation.

SU-30MKIs were the world's first production air superiority fighters and also the first exported military aircraft that came with phased-array radars. In fact, the SU-30MKI is the engineering zenith (among production aircraft) in design among fourth-generation heavy-duty fighters. The SU-30MKI's external design was largely influenced by Indian engineers.

Currently, Russia supplies to India aircraft produced at the Irkutsk aviation plant and also complete sets of SU-30MKI parts to be assembled by HAL. After all the contracted aircraft have been delivered, the Indian Air Force (IAF) will have 230 SU-30MKI fighters. These aircraft have already formed the core of the IAF and are deployed in critical areas, ensuring absolute air supremacy over potential enemies. In mock dogfights IAF pilots flying SU-30MKI generally defeat modern fighters produced elsewhere.

In November of 2008, British journal Flight, a reputed industry publication, conducted a survey among its website visitors asking them to select the best fighter from a list containing the SU-30MKI, F-22 and F-15. The Russian fighter was voted for by 59 per cent of the survey participants.

In November of 2009, Indian President Pratibha Patil took a ride in a SU-30MKI. Her predecessor, Abdul Kalam, did the same in 2006.

The President of IRKUT Corporation Oleg Demchenko made the following comments on the project: "The SU-30MKI programme opened a new stage of Russian-Indian partnership in the aircraft industry. We have progressed from aircraft sales to R&D cooperation and aircraft production at HAL facilities. Note that these fighters will be armed with Russian and Indian-made BraMos missiles. This one-two punch, SU-30MKI and BraMos, will offer unrivalled combat performance.

Mikhail Pogosyan, CEO of Sukhoy Aviation Holding Company and MiG Russian Aircraft Corporation said: "Developing collaboration with the Indian aviation industry is a top priority for Russian combat aviation producers.


MiG-29К
Another custom-designed fighter is the MiG-29K. The contract with India was signed on 20 January 2004 envisaging the delivery of 12 single-seat MiG-29K and 4 two-seat MiG-29KUB fighters, and also provisions training for IAF pilots and technicians, supplying flight simulators, spare parts, and maintenance for the new aircraft at IAF bases.

On 19 February 2010, a ceremony was held at the Hansa naval base to commission the first set of sea-based MiG-29К/КUB fighters. The aircraft was included in the Black Panthers squadron. Indian Defense Minister Arackaparambil Kurian Antony said: "Adoption of Russian fighters MiG-29K/KUB by the Indian Navy will contribute to India's defense capability and strengthen the strategic partnership between our nations".

Indian pilots gave high praise to the new fighters, and in March of 2010 India signed a contract for 29 more MiG-29K/KUBs. Today, MiG-29К/КUB is one of the best carrier-born combat aircraft in the world in terms of cost and effect. The Russian Navy has recently placed orders for the fighter. The MiG-29К/КUB became the basis for 4++ generation land-based aircraft, notably including the MiG-35 multi-purpose fighter.

This fighter combines excellent flight and operating performance with reinforced combat capability. The MiG-35 is fitted with advanced onboard avionics, including active electronically scanned array (AESA) radar and a unique optical locator system (OLS) based on a technology originally designed for space applications.

MiG Corporation is also running a large-scale programme to upgrade India's MiG-29 fighters. The respective contract between the Indian Ministry of Defense and MiG was signed in March of 2008. The upgrade will provide the entire IAF fleet of MiG-29 fighters with state-of-the-art avionics, standardized in line with similar systems in sea-based MiG-29K/KUB produced under the above-mentioned contract with the Indian Navy.

The upgraded MiG-29 onboard equipment will include a number of advanced systems developed and produced by HAL, Bharat Dynamics Ltd, and some other companies in other countries.

Today, India and Russia have effectively defined their long-term cooperation plan in developing combat aircraft. It includes the following aspects:

- Aircraft production under the SU-30MKI programme, which will be expanded with the SU-30MKI/BraMos combination;
- MiG-29K/KUB sales and production cooperation;
- MiG-29 upgrade programme carried out jointly by Russian and Indian companies;
- Potential sales contracts and production cooperation under MMRCA (MiG-35/MiG-35D);
- Russian-Indian Fifth-Generation Fighter Aircraft (FGFA) programme;

Coordinated delivery of these programmes will help India:

- Maintain and expand its standardised aircraft fleet as the basis for its Air Force and Navy to create integrated combat systems;

- Build an integrated infrastructure of after-sales maintenance for most aircraft of the Indian Armed Forces;

- Ensure sustainable development of its aviation and electronics industries.

The integration of Sukhoy and MiG capabilities under Mikhail Pogosyan's leadership helps maximise the scope of the Russian-Indian combat aviation development programme.


The most exciting and cutting-edge engineering work will be the Fifth-Generation Fighter Aircraft (FGFA) project. Russian Deputy Prime Minister and Chairman of the UAC Board of Directors Sergei Ivanov said: "We have already agreed upon all the principal arrangements with India regarding the development of the fifth generation fighter". Ivanov also noted that the Russian Sukhoy T-50 and the Russian-Indian FGFA will be developed simultaneously. In November of 2010, Sergei Ivanov became the co-chair of the Russian-Indian Intergovernmental Commission for Economic, Technical and Cultural Cooperation. Experts believe that this appointment will boost collaboration in the aircraft industry.
India's defense minister said that the IAF will buy 250 to 300 FGFAs.

India and Russia also made steps to launch the Multi-role Transport Aircraft (MTA) programme to develop a new aircraft capable of carrying 20 tons of cargo for replacing An-12, An-32 and other transport aircraft in Russian and Indian air fleets. The contract to design and produce MTA was signed between HAL and UAC on 9 September 2010. Under its terms, the parties will invest 300 million dollars in the joint venture. MTA manufacturing facilities will be located both in Russia and India. The Indian Defense Ministry will place its first order for 45 MTAs, whereas the Russian Air Force is expected buy about 100 new aircraft.

HAL CEO Ashok Nayak said in a statement that the initial plan is to produce 205 aircraft, of which 30 per cent will be sold on the global market. He expects that the first MTA will take off in 2016-2018.
In compliance with the contract, a joint venture was registered in India in November to manage the MTA project.

Currently, UAC is in the process of launching full-scale production of the IL-476 military transport aircraft based on thoroughly upgraded IL-76. India has IL-76 in service along with its modifications: IL-78MKI tanker aircraft and А-50EI airborne warning and control system (AWACS) aircraft
Among other Russian aircraft that India might find useful is the Beriev Be-200 Altair amphibious aircraft. With this unique multi-purpose system Russia could confidently bid in the tender for new maritime patrol aircraft that will soon be announced by the Indian Coast Guard.
All rights reserved by Rossiyskaya Gazeta.