Photos by Fabrizio Ferri, Susie Morgan, Kommersant-Photo

In a spare dance studio on Broadway and 19th Street, Veronika Part strains to get the steps right. An extraordinary principal dancer with American Ballet Theater, her willowy limbs stretching into some parallel universe, the St. Petersburg native is still having trouble with a sequence of fast, intricate steps.
For a moment in time, Part appears delightfully human. Early in the rehearsal process for a new "Nutcracker," the delicate staccato moves, fiercely quick childlike piques (hops) falling into the deepest of lunges, are almost impossible on such very long legs. In a matter of weeks, however, she will most likely perform the moves like air on silk.
But for now, Alexei Ratmansky's powerful variation subdues her.
Ratmansky, former artistic director of the Bolshoi Ballet, has become one of the world's most coveted choreographers in recent years. He has just created a new interpretation of "The Nutcracker," one that reveals a rapid-fire and dreamlike maturation of protagonist Clara, a role danced by Part, an extravagantly generous dancer.
Ratmanksy left the politics of the complicated star system of the Bolshoi in 2008 to do what he does best: choreography. Right now he is putting a new shine on "The Nutcracker" for American Ballet Theater (ABT). The work receives its world premiere at the Brooklyn Academy of Music on Dec. 23. A sensational show for ABT would be a gift in times like these.
"People love Alexei Ratmansky's work because it is both classical…and psychological," Joan Acocella, one of the most perceptive American dance critics, wrote in The New Yorker. "Ratmansky should be treasured for his double gift, which has the mark of all great ballet choreographers."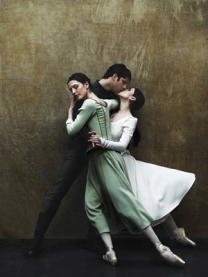 Ratmansky's "On the Dneiper," about star-crossed lovers
. Source: Fabrizio Ferri
In rehearsal, Part speaks Russian with Ratmansky, who is helping her find her inner Clara. Looking on is longtime ABT ballet mistress Irina Kolpakova.
While Ratmansky knows better than to revolutionize a ballet as institutionalized as "The Nutcracker," he is also brilliant enough to misbehave a little and give some sharper edges to the best-known ballet in the United States. It is hard to imagine that the ballet was not well received when it debuted or that the work is not performed much in Europe and Russia. It is the single reason American ballet companies stay financially afloat.
Every "Nutcracker" will be compared to George Balanchine's atmospheric work that pays homage both to the E.T. A. Hoffman story and the Tchaikovsky music. Born in St. Petersburg, Balanchine moved to New York and created an exquisitely and quintessential American-style ballet that still resonates today. It will be difficult, but not impossible, for Ratmansky to hold his own against the master. Yet ABT skipped its fall season to pay for this epic creation, putting all of its resources and hopes into this one show.
Before the rehearsal, Ratmansky seemed relaxed at ABT's rather time-worn, even tattered, offices at 890 Broadway in Manhattan. (If the Christmas spectacle does well, maybe they will renovate the space.) He said that ABT is a warm atmosphere and feels like home. It is no secret that some of the Bolshoi dancers gave the artistic director a very hard time during his tenure there. At the same time, it was a period of creative growth and international acclaim both for Ratmansky and the company, which had been resting on more or less ancient laurels.
"At American Ballet Theater, I don't have to waste time explaining why I want to do this or that or convince people to follow me. They understand that this is their job," Ratmansky said of ABT dancers.
At the Bolshoi, Ratmansky recalled, "There is a cult called 'We are the Bolshoi.' It's limiting on one hand. On the other hand, there is a sparkle. Sometimes the self-importance leads to great performances."
"Don't tell him, but the Bolshoi is going to change, partly because of his ballets, and so be it," Joan Acocella predicted in 2005. And she was right.
When Ratmansky was at the helm of the Bolshoi, the company experimented for the first time with the modern choreography of Twyla Tharp. He also restored a long forgotten Soviet-era ballet, "The Bright Stream," to the music of Shostakovich in honor of his 100th birthday—Joseph Stalin had banned the ballet in 1936. The result of Ratmansky's effort was profound. ABT will perform "The Bright Stream" at the Kennedy Center from May 16 through July 9. Ratmansky will also return to Moscow in February and March when he will create a new work for the Bolshoi. The company will also perform in London and Washington, D.C., this spring.

For now, though, his focus is on "The Nutcracker."
If anything, he has restored some Russian roots to the ballet. "The snowflakes are a bit more dangerous in this one because snow is cold…one can freeze to death," Ratmansky added with a hint of a smile. He did not want to reveal too much before opening night. "We'll see how it goes, if they like this 'Nutcracker, '" he said. "It's a daunting task, and it does keep me up at night."

CORRECTION: American Ballet Theater will perform at the Kennedy Center in January 2011, not the spring. Please see the Kennedy Center website. ABT will also perform at the Metropolitan Opera House in May and June. You can view the calendar here. These dates were inadvertently reversed, and Russia Beyond the Headlines regrets this error.
All rights reserved by Rossiyskaya Gazeta.