Banksy coughs up for anarchic Russian art group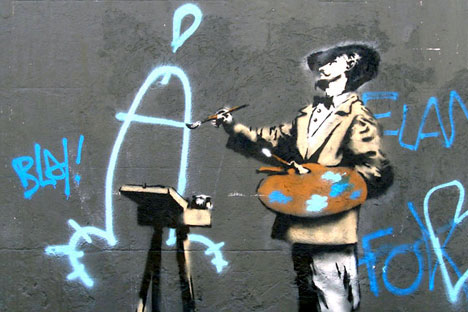 Graffiti art by Banksy. Source: www.banksy.co.uk
Art rebels of the world are uniting, as the secretive top cat of street art, Banksy, hands over 4 million robles ($126 912) to art provocateurs Voina (War).

The group that painted a giant phallus onto a drawbridge in St Petersburg, which when erected faced the FSB's headquarters during the international St Petersburg Economic Forum, is currently feeling the heat from the Russian authorities.

The British street artist offered all proceeds from a sale of 175 prints yesterday to the irreverent art collective, "Each print is £450 but if it's any consolation Banksy is donating all royalties to the Voina artist co-operative in Russia, two of whom are currently residing in a St Petersburg jail," said website picturesonwalls, from which registered users were randomly drawn to buy the prints.


A giant phallus onto a drawbridge in St Petersburg,
which when erected faced the FSB's headquarters
Banksy approached the group over the weekend. "[He] asked his journalist friends to find us and personally offer us help. On Dec. 11 at midnight in London and 3:00 am in Moscow, his journalist friends found us and discussed everything. We thanked him for his help and brought his attention to the problem of the extermination of human rights in Russia," Alexei Plutser-Sarno, Voina's chief ideologist, told gzt.ru.

The group's stunts include staging an orgy in a Moscow museum, mock hangings of homosexuals, to protest ex-Moscow mayor Yury Luzhkov's condemnation of them as "satanic," and overturning police cars in St Petersburg last month in an anti-corruption protest, for which some of its leaders are now in jail.

Voina has directed many of its actions at state officials and politicians, saying they are part of a war waged for the "destruction of outdated repressive-patriarchal socio-political symbols and ideologies," the Guardian reported.

Fame far afield

Banksy's interest and knowledge in Voina's exploits should come as no surprise to those who move outside street art circles, "tens of thousands of people around the world know about the actions of the Voina art group, Voina is today one of the top world art phenomena," Plutser-Sarno said.

On Saturday, Banksy urged fans to buy the exclusive prints to help the imprisoned artists, gazeta.ru reported.

This story originally appeared in the Moscow News


---
"Palace Coup," an action by the art group Voina

Art provocateurs Voina (War) have been raising hell again in St Petersburg. In a carefully coordinated campaign of carnage they ran around the city overturning police cars and locking officers safely out of reach.
All rights reserved by Rossiyskaya Gazeta.