Russia and India expand ties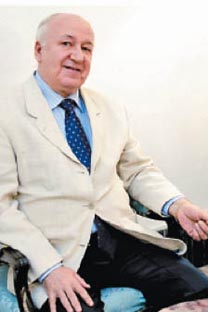 Alexander Kadakin, Russia's Ambassador to India
Elena Protopopova : Russia and India's friendship has long stood the test of time. What new trends have emerged in their partnership in recent years?

Alexander Kadakin:Russian-Indian relations can be described as mature, diversified, concrete and substantial. Certainly, this is thanks to our productive cooperation for more than six decades. The main trend in recent years, however, has been the expansion of our bilateral cooperation amid important global changes. The Delhi Declaration on Further Consolidation of Strategic Partnership, signed ten years ago, introduced new elements to our ties with India and to international relations in general. Among these are the regular annual summits the two countries hold, which provide a powerful impetus for developing our cooperation. What distinguishes relations between Russia and India today is the unique level of mutual understanding and trust – something both countries recognise. This is due to our close or common priorities in economic and social development, our domestic and foreign policy, including approaches to peace and security, to the new global architecture. In the ten years since the Delhi declaration was signed, cooperation between Russia and India has changed a lot, becoming a truly privileged strategic partnership. I think this definition could well be added to international diplomatic vocabulary.

E. P.: Among India's partners, Russia ranks 12th in trade volume. Trade and economic ties are expanding, but not as fast as one would like it. Why is it so? What should we do to increase trade?

A. K.: Indeed, trade volume between Russia and India is far below our countries' potential. And yet, it is expected to reach $9.6–$9.8 billion this year – twice as much as it was some 5-7 years ago. Having said that, while trade is on the rise and most of Russian exports to India are engineering and technical products, neither side is satisfied with how things are at the moment.

The problem is that Indian businessmen cannot shed old stereotypes of Russia's poor business climate, fearing the loose of their investments. This is partly due to Russia's less than desirable legislation and low awareness of our efforts to encourage foreign investment in the industrial and other sectors.

An important role in this respect is assigned to the Russian-Indian Council of Business Leaders, which was set up two years ago, as well as regular forums on trade and investment, with the fourth such meeting scheduled for 20 December. I am sure that we can speed up and meet the target set by Russian and Indian leaders to bring our trade to $20 billion by 2020, thus doubling it.

E. P.: Russia is India's leading partner in nuclear energy, but India's new legislation makes foreign partners responsible for accidents at nuclear power plants even many years after they have been built. Could this affect Russian-Indian energy cooperation?

A. K.: In this vital sphere, we and our Indian colleagues have gained valuable experience – something any other country seeking a role in India's impressive nuclear energy programme cannot say. Our cooperation is based on an intergovernmental agreement signed back in the late 1980s. Unlike India's other potential partners, who are only hypothetically prepared to join India's peaceful nuclear energy projects, we are already involved in this process, and this is what really matters. The first unit of India's largest nuclear power plant in Kudankulan, which is being built with Russia's help in the South Indian state of Tamil Nadu, is about to be launched soon. The second unit with the same capacity of 1,000 MW will come online in about six months.

Bilateral agreements envisage not just the expansion of the Kudankulam Nuclear Power Plant, where four (and often six) generators will be built, but also the full-scale construction of nuclear power plants, with Russia's help, in other parts of India. In all, up to 16 nuclear power units could be built in India over the next 15 years under the roadmap agreement signed during Russian Prime Minister Vladimir Putin's visit to India in March 2010. This is much of what is planned to more than quadruple India's nuclear power capacity by 2020, to 20 GW – a target outlined by the Indian government.

This ambitious goal necessitates involving leading foreign partners. Some of them have already expressed concern that India's new law on responsibility for nuclear damage might impede or even block the implementation of the programme. These are not baseless fears, but we think there is no reason to panic. In any case, we expect our Indian partners to develop and offer specific scenarios and tools of cooperation in nuclear energy, allowing us not just to maintain our cooperation but to expand it steadily, in accordance with our international obligations, including to India. This will fully meet the interests of our countries.

E. P.: Russia remains India's largest arms supplier. Meanwhile, other countries, among them the United States, France and Britain, have recently stepped up their defense cooperation with India. Could this affect the existing levels of military technical cooperation between Russia and India?

A. K.: India, with its steadily rising economy and growing international influence, is emerging as a new global power, and it is often compared to a rich bride, who can have her preferences and make her choice when considering a husband. India's programme to upgrade its armed forces and strengthen its defense potential envisages large-scale imports of state-of-the-art military equipment worth tens of billions of dollars. Certainly, growing competition for such an attractive market could affect Russia's chances to retain its dominant position. But it's too early to say that we are being effectively sidelined. The most important is that the bride is not hoodwinked.

Russia has something to offer to India to satisfy its needs for a broad range of modern military equipment. A good example is India's current international tender to buy 126 state-of-the-art multirole fighters. According to experts, Russia's MiG-35 fully proved its compliance with the declared flight and combat requirements, thus giving us hope to win the tender.

In an earlier project, India decided to buy in Russia and assemble locally Su-30MKI fighters, planning to bring their number to 280 in the future. This alone implies long-term and close cooperation between Russia and India in aircraft manufacturing. An agreement has also been reached to jointly develop a multirole cargo aircraft. Another key project – the joint development and production of a 5G fighter – is also in the works, with the appropriate agreement to be signed during President Medvedev's visit to India. And there are more examples to boot. All this is a sign of an unprecedented breakthrough in defense integration, which cements the shift from the seller-buyer pattern to full-fledged partnership. Tellingly, Russia is the only country offering India to share its latest and secret technology as part of such pioneering projects. Isn't it clear, then, that this is a sign of our confidential and profound relationship with India?

E. P.: How is Russian-Indian cooperation developing in space exploration and research? What are the prospects for unmanned projects and for the joint use of the GLONASS system?

A. K.: This is where we can be very confident. A comprehensive long-term programme for scientific and technical cooperation between Russia and India until 2020 is expected to be signed during President Medvedev's visit to India. Over the past ten years, this programme has provided an opportunity for some 500 joint projects and 4,000 Russian and Indian researches to visit each other. In this sphere, Russian-Indian contacts extend from mineral resources to space exploration.

The joint use of Russia's GLONASS Global Navigation Satellite System will be a vital, innovative contribution to our planned projects. This is not just about the production in India of the requisite ground equipment, allowing us to effectively use space technology for solving our urgent economic and social problems, including transport and preventing natural disasters. Russia is also prepared to provide India with GLONASS signals. We are working on other space projects, too, including Russia's part in preparing a manned lunar mission.

E. P.: What do you expect from the upcoming Russian-Indian summit?

A. K.: The visit will be very constructive, energetic and productive, with more than 15 agreements to be signed during the negotiations and behind the scenes. They cover a broad range of Russian-Indian relations, from nuclear energy to education and culture. The main focus will be on cooperation in innovative sectors, where India has considerable experience useful for programmes in Russia. This includes telecommunications, software development, nano- and biotechnologies, pharmacy, and technology parks. These areas will provide the bulk of our mutually beneficial cooperation with India, our old and loyal friend, in the foreseeable future.




VIDEO MESSAGE by the Russia's Ambassor to India Alexander M. Kadakin to "OBSERVER RESEARCH FOUNDATION, MUMBAI", roundtable discussion on russian-indian strategic partnership
New Delhi, december 16, 2010
All rights reserved by Rossiyskaya Gazeta.