Rooting for Indo-Russian strategic partnership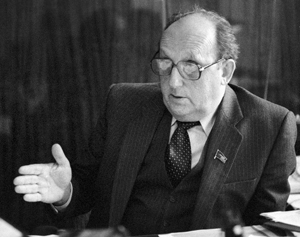 Prof. Arun Mohanty. Source: www.wpfdc.org
Russian President Dmitry Medvedev's official visit to India caps the UNSC members' visits to Delhi in the last six months, and in a way demonstrates that India's strategic partnership with Moscow is qualitatively different from our strategic partnership with rest of the UNSC members. India's relationship with Moscow is different in that there is a consensus in both countries about this relationship, and political fluctuation in either country does not affect these ties; India, Russia are only two major global powers who gain confidence from each other's growing strength and never had any conflict in the entire history of their bilateral relations, which obviously can not be said about Delhi's burgeoning strategic partnership with other nations .

India's strategic partnership with Moscow has a much longer history than with any other country, whose foundation stone was laid during India's first Prime Minister Jawaharlal Nehru's first official visit to Soviet Union in 1955 at a time when rest of the P-5 members barring China were treating India not as a friendly country. In fact, Nehru at first was trying his best to cultivate the West for getting their assistance to meet our developmental needs, particularly for building India's industrial infrastructure. That is why, US was chosen to be the first destination for independent India's first prime minister's foreign sojourn. Following the failure of US visit, India's ruling elite thought of seeking Soviet assistance for industrialization of the country. Nehru's first official visit to Soviet Union took place in the wake of announcement of our second industrial act that sought to build heavy industry in the state sector and in the back drop of Western refusal to extend any help for executing this strategy. It is during this visit that understanding was reached for getting Soviet assistance in building India's core industrial sectors in the backdrop of West's refusal to extend any help India I this regard. Bhilai steel plant became the first factory to be built with Soviet assistance which became the flagship of Indian metallurgy and was followed by dozens of industrial enterprises in metallurgy, energy, space, machine-building etc that laid a solid foundation for India's rapid industrialization in subsequent decades.

Nehru was so elated during the visit that Indian ambassador to Moscow and Nehru's long-time and close lieutenant K.P.S. Menon wrote in his memoirs that he had never seen Nehru so happy as he was during this visit . Nehru during the long visit to USSR stopped at many cities one of which was Magnitogorsk, the steel city that is spread on both banks of Ural river. When Pandit Nehru accompanied by Soviet first deputy foreign minister Vasily Kuznetsov stepped on to east bank from the west bank through a bridge over Ural river, the Soviet minister asked him: "Do you know what you did right now. You stepped into Asia from Europe." Nehru stopped for a moment and looked at the blast furnaces, factory smoke covering sky line on the Asian bank of the river and at the luxurious apartment buildings, clubs, theatres on the European bank of the river. Nehru with a smile on his face said to his soviet hosts: "You think Asia would always work like this and Europe would always enjoy the fruits of their labor." This was a kind joke by Nehru, which the Russian friends understood in the right spirit.

As a result of this visit USSR provided unprecedented assistance, not available any where else for India's rapid industrialization, that eliminated the colonial structure of Indian economy and helped in building India's self-reliant economy. Nehru, known for his love for children during the visit had taken two elephants – Ravi and Shashi - for gifting to Soviet children and had taken baskets of mangos - apparently mango was served in the Kremlin official dinner for the first time. West was very displeased with the success of the visit, which was reflected International Herald Tribune's editorial that sarcastically wrote about "Mango Diplomacy" and "Elephant diplomacy in Kremlin". Looking back at the historic visit after 55 years, we can definitely say that "our mango diplomacy" and "elephant diplomacy" have brought us lot of fruits over the decades. The Indo-Soviet summit in 1955 was no doubt a break through, landmark event in the history of our tried and time-tested friendship.

If there is any other summit that falls in the category of breakthrough, milestone events, it is definitely Russian president Vladimir Putin's first state visit to India in October, 2000, when both countries signed the Delhi Declaration on Strategic Partnership, the 10th anniversary of which is being celebrated by two nations this year. Unprecedented 17-bilateral agreements for enhancing cooperation in defence, space, science and technology, nuclear, energy sectors etc. were signed during the visit that provided rich content to our strategic partnership in subsequent years. President Putin's first India visit, the longest to any foreign country, signing of historic strategic partnership declaration reflected India's place in Russian foreign policy priorities. Putin's statement during the visit that he is "India's best friend" and that "an old friend is better than two new ones" clearly reflected the significance that he attaches to India and the continuity in our time-tested friendship.

We welcome President Medvedev's visit to India as we celebrate 55th anniversary of Nehru's historic visit to former Soviet Union and the 10th anniversary of President Putin's breakthrough visit to our country in the year 2000. We are confident the forthcoming Indo-Russian summit is destined to provide new impetus to our traditional cooperation in defence, space, nuclear, energy, science and technology that would further strengthen our strategic partnership in coming years and display that our strategic partnership with Russia is much richer than that we try cultivate with our new–found strategic partners.
---

Arun Kumar Mohanty is Director of "Eurasian Foundation", New Delhi and Associate Professor of the Centre for Russian and Сentral Asia Studies in the School of International Studies, Jawaharlal Nehru University.
All rights reserved by Rossiyskaya Gazeta.