From Lenin to Ravi Shankar: Ragas play on forever...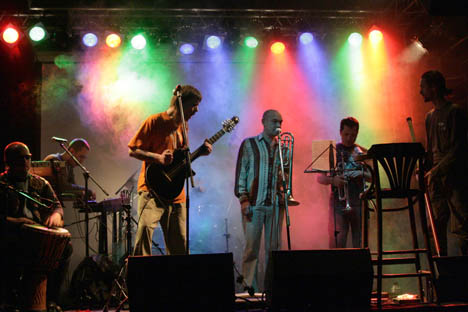 A concert by sitar maestro Ravi Shankar at the Bolshoi Theatre in 1988 filled Russian musicians with dreams of India. Now, a Russian group recreates the magic of ragas.
It's a magical experience: listening to Indian ragas on a cold and dark December night at a Moscow club, and suddenly be transported to an Indian temple. No one was really prepared for it, especially as the nine musicians on the stage were typical exponents of the Russian underground, a group called Safety Magic. Every one of them had come to know India in his own way, through the cultural centre sponsored by the Indian embassy in Moscow, for example, or at the India-USSR festivals in the 1980s.
One of the group's founders, Pavel Novikov, was lucky to live and study music in India. After graduating from the Saratov Conservatory in flute, Pavel decided to study the Indian music and enrolled in the Shri Ram Bhartiya Kala Kendra Academy in Delhi. There he learned to play the tabla and studied classical Indian vocals; he also learned to play the bansuri (flute) with the maestro, Harsh Wardhan.
Pavel took an Indian pseudonym, Pravin, and, after his return to Russia, quietly began teaching his musician friends ragas. Today, even when he is not around, Safety Magic bewitches audiences with its soothing Indian rhythms and drawling songs.
The leader of Safety Magic, Dan (Daniil) Lerman, began playing the drums in the 1980s. Young "hippies" would gather at Jaltarang, an Indian restaurant, near Chistye Prudy in the heart of Moscow. They drank coffee with cinnamon and listened to music. "In those days, there were splendid festivals of India in the USSR and Soviet festivals in India. Indian musicians came to Moscow and I was lucky to get into a few concerts," recalls Pyotr (Ragu) Nikulin, who plays an exotic wind instrument, the didjeridu, created by Australian aborigines. "We listen and one way or another, we reproduce different music, not just Indian. There's good music and bad music. I advise you to listen to more good music and all the right vibrations will come to you."
Dan Lerman first sensed those vibrations while listening to a record by John McLaughlin and his Mahavishnu Orchestra, a jazz-rock fusion group from the 1970s. Dan followed the example of his idol and found himself an Indian guru, Hashmat Azami Ali Khan, then a popular teacher of drums and tabla in Moscow. True, each member of Safety Magic began by studying classical guitar in an ordinary Soviet music school. But everything changed after a concert by Indian sitar maestro Ravi Shankar at the Bolshoi Theater in 1988. Dan began dreaming about a sitar, eventually hitting upon a tambura (a long-necked Indian lute) that he still plays today.
Now, all Safety Magic's rehearsals and concerts begin with the singing of ragas. "In music, we adhere to the Indian principle. It's not at all like the principle in Europe where you come out on stage and have to do something. Indian musicians simply live in their music," says the group's bass guitar player, Mikhail Avsharov. Safety Magic tries to attain "a presence in the moment and openness to everything". Those members of the group who cannot go to India have found a place to learn about Indian culture at the Indian embassy's Jawaharlal Nehru Center in Moscow. "People go there. They're drawn by the nominal fee for lessons in real yoga, in Hindi," says Dan.
Music lovers today gather mainly on the pages of YouTube. Safety Magic is saved by festivals where groups like theirs can really let loose. Indeed, Safety Magic first began to be talked about after their appearance at a festival in the village of Shushinskoye in Krasnoyarsky krai, where Vladimir Lenin once lived in exile. The audience there somehow felt especially close to Indian rhythms.
Ethno-jazz-rock group Safety Magic performs at a concert. Photos by Anisia
All rights reserved by Rossiyskaya Gazeta.