Time travels: Scripting the wonder called India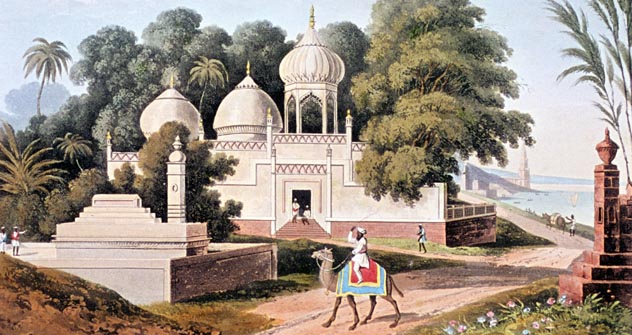 1824 India Lithographs. A Mosque and gravesite at Benares. Source: Ullstein Bild/Vostock-Photo
Iconic Indologist Ivan P. Minayev is back in spotlight with his book on a Russian trader's voyage to India.
In February, 1880, The Times of India reported with much relish about the meeting of a Russian scholar with learned Indian Sanskrit pundits. Ivan Minayev deeply impressed Indians with his extraordinary and refined knowledge of this ancient language. A Russian's mastery of Sanskrit may have created a splash in India at that time, but that was because not many knew about the Russian School of Indological Research.
Starting from Gerasim Lebedev, who is considered a pioneer in this field, many outstanding Russian researchers had engaged in comprehensive and insightful research into the fields of Indian history, political structure, economy, culture, philosophy, religion, literature and arts.
India and Indian culture have never ceased to interest Russian scholars and Russians. Ivan P. Minayev (1840 –1890) holds a special place in the galaxy of such renowned scholars. His encyclopedic knowledge of India, extraordinary language skills, inexhaustible enthusiasm combined with the aspiration to realise India as a living entity, an indissoluble unity of the past and the present, which he was so lucky to witness, entitles him to a place in the constellation of the best researchers of the world.
Minayev was no ordinary savant. The Russian scholar deserves special praise since he, unlike many of his Western colleagues who mostly concentrated on the so-called "classical" India, found contemporary India an equally important field of research. For the first time in Russia, he articulated the task of composite interdisciplinary approach towards the studies of Indian realities based on the conception of the uninterrupted process of cultural and historical evolution.
From the methodological point of view, it was a breakthrough of sorts, pioneering the path towards the research into this country given the dynamics of its culture-historical and socio-political development. Minayev gained global recognition due to his seminal research works on the history of Buddhism and Pali philology, as well as translations of early Buddhist texts and studies of this doctrine and phases of its development. His major work, "Buddhism. Research and Materials" (Volume 1, Edition One and Two), published in 1887, was based on a composite cultural, historical and social methodological approach to this phenomena. In the course of his analysis, which makes this study really unique, the scholar correlated archaeological discoveries, epigraphical and written sources related to the history of Buddhism with the day-to-day and religious life of Buddhist sangha, various aspects of Buddhist congregations, as well as with the activities of its main branches and movements based on this belief.
Iconic Indologist Ivan P. Minayev is back in spotlight with his book on a Russian trader's voyage to India.
The Russian scholar also attributed great importance to the translation and publication of ancient Indian texts, actively contributing to the introduction of these rare manuscripts to the Russian and European academic community. His excellent command over Pali and Sanskrit, as well as the knowledge of many contemporary Indian languages and some Pahari dialects, allowed him to communicate freely with various strata of people in India living in the regions and territories which he travelled across, collecting and accumulating unique historical data, which he subsequently commented upon in the notes of his journeys to India, Nepal and Ceylon in 1874-75, to India in 1880 and to India and Burma in 1885-86.
Afterhis expedition to Garhwal and Kumaon regions, Minayev compiled a unique anthology of the local folklore – fairy tales, legends and rare pieces of the so-called "folk farce", which had been performed during the Almora market. The Russian readers were greatly impressed by these publications. Legendary Russian author Leo Tolstoy commented enthusiastically in 1877 on the publication of Minayev's "Indian Fairy Tales and Legends, collected in Kumaon in 1875".
However, despite the broad range of Minayev's research, most of of his writings remain unfamiliar to Indians. After a gap of almost fifty years, when his "Travels in and Diaries of India and Burma" was published from Kolkata, another masterpiece, "Old India: Notes on Afanasy Nikitin's Voyage Beyond the Three Seas", is now being brought out by the Russian embassy jointly with the Eurasian Foundation to commemorate the 170th birth anniversary of its author.
While commenting on the 15th century travelogue of the merchant from the city of Tver, who happened to be the first explorer of the Indian market, the Russian scholar analysed in detail Nikitin's observations and also described many aspects of medieval India's socio-economic, political and day-to-day life in historical perspective, tracing the genesis of their development upto the 19th century. He compared medieval India, as gleaned from Nikitin's travelogue and other sources, with the situation in the colonial India. The travel notes of the merchant from Tver, who pioneered trade relations between Russia and India, looks set to get a second life, which looks very symbolical in the context of a breakthrough summit meeting between the leaders of these two countries.
All rights reserved by Rossiyskaya Gazeta.