Medvedev congratulates KAMAZ-Master with victory at the Dakar-2011 tournament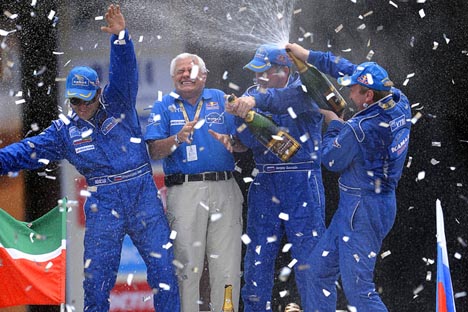 President Dmitry Medvedev congratulated Russia's KAMAZ-master team on winning the Dakar-2011 rally-marathon, which ended on January 15 in South America.
Reuters/Vostock photo, DR
«I congratulate the Russian KAMAZ-master team and Vladimir Chagin for their brilliant victory at the Dakar rally. Well done!», - Medvedev posted on his Twitter account.
The «KAMAZ-master» team raced with four separate crews who took 1st, 2nd, 3rd and 4th place. The top prize went to the crew led by Vladimir Chagin. It's the tenth victory of a Russian team in Dakar races – KAMAZ-master won the rally in 1996, 2000, 2002-2006, 2009 and 2010. It's also Chagin's seventh personal win. The award ceremony took place in Buenos Aires on January 16.
All rights reserved by Rossiyskaya Gazeta.