BP turns the tables on Fridman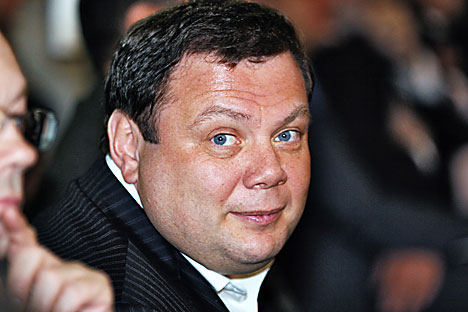 The new deal between BP and Rosneft complicates the situation in BP's already complex relationship with it's Russian joint-venture, TNK-BP.
BP has had its hand bitten twice by Mikhail Fridman over the last decade or so, but January's deal with state-controlled Rosneft looks to have given BP the upper hand over the Russian oligarch for the first time. This prompts the question: Are international investors like BP now more concerned with "oligarch risk" than "Russia risk?"

Mention strategic investment in Russian oil and gas in some quarters and you'll be met with wide-eyes and a list of naive international oil companies (IOCs) such as Shell and Exxon Mobil that have been strong-armed out of projects over the past few years. BP's deal with Rosneft brought forgotten memories of these horror stories bubbling back to the surface, but there are several significant differences in partnering with Russia's state-controlled energy companies today, all of which suggest a more stable footing for the international investor operating amid Russia's erratic legal and corporate governance environment.
First, the terms of the BP deal are markedly different from the production sharing agreements (PSAs) signed in the 1990s – when both Russia and the oil industry in general were struggling. In the 2011 version, the Russian partner holds 66 percent of the pair's Arctic venture, while BP will put up the initial cash. "Rosneft retains its privileges and can pull the strings," said Alfa Bank analyst Pavel Sorokin. "BP takes the risks of exploration, brings in its technology and will eventually be allowed to book some of the reserves. That suits Rosneft down to the ground."


An aside worth noting here is that although much is made of the IOCs' loss of operating licenses in Russia during the last decade as the Kremlin consolidated its hold over the country's energy assets, all of those investors walked away better off than when they had arrived. "I don't think any of them suffered too much financially," said Alexei Kokin of Uralsib. "Shell's rate of return was acceptable and BP – although it's had huge headaches - has made good money, even with Sidanco back in the 1990s."


Or as Roland Nash of Verno Capital puts it: "It's not third time lucky for BP; it's third time."
Yet it's not only BP's desire to replenish its reserves that drove this deal. Rosneft not only needs BP's cash to power such capital-intensive projects, but also its technical expertise. With production in western Siberia past its peak and the eastern half of that region looking less profitable, practically all of Russia's large new deposits are in deepwater offshore or in inhospitable environments – or both. Russia has very little of the experience needed to operate in these environments, and safety concerns over which have become risen markedly since, ironically, BP's troubles in the Gulf of Mexico last year.

At the same time, the deal offers Rosneft an international expansion route, a central plank of the Kremlin's strategy to grow the national champions it spent the last decade or so creating. The global economic crisis only served to spur that goal, as it highlighted Russia's lack of diversity and need for foreign market access to power its growth. Piggy-backing on BP's international presence is ideal, especially in those markets that frown on Rosneft's state control. That back-door access is what had U.S. politicians barking as if the Cold War never ended.

Verno's Nash, meanwhile, points out another way in which BP and Rosneft appear to fit hand-in-glove: "Both have their particular problems from which they want to divert attention back to producing oil, and this deal does just that. BP wants to forget about the Gulf of Mexico; Rosneft about Yukos."


While outstanding legal challenges to the assets that Rosneft acquired during the forced bankruptcy of Yukos pose a real risk to BP, a deal with the Russian state, even one orchestrated by Igor Sechin – head of Rosneft and deputy prime minister in charge of energy policy - evidently looks like a more stable route for adding reserves to new BP CEO Bob Dudley than relying on an oligarch like Fridman. This is hardly surprising, given that Dudley was hounded out of both his seat at the head of TNK-BP and Russia by Fridman and his partners in the Russian half of the oil joint venture during a bitter battle over international expansion in 2008.


That was the second time Fridman left teeth marks on BP, the first being in the 1990s after the oligarch's nose was put out of joint when he was left out of BP's deal with Vladimir Potanin's Sidanco. Fridman duly wrestled control of the partnership's biggest production asset, only to turn around and offer it back to BP via the TNK tie-up. "I think you have to align your intentions correctly with the oligarchs," said Nash diplomatically. "They know how the Russian environment works better than anyone, and are therefore in a stronger position to take advantage of it should they feel the need."


However, that's a strategy BP appears to have given up on. And AAR – the Russian half of the TNK-BP venture – has been swift to make its displeasure over BP's deal with Rosneft known, saying that an agreement within TNK-BP gives it the right to take part in any projects inside Russia that BP is involved in. This time, though, BP looks to have outgunned Fridman. "The people in AAR have a lot influence with certain government agencies, but with Rosneft you're basically dealing with the Kremlin," said Kokin.


"If you were putting money on it, then you'd probably back Fridman in a fight with [former BP CEO] Tony Hayward, but Fridman versus Sechin… no contest," said Nash. "I don't think he'll be able to cause much trouble. If anyone knows the risks associated with TNK-BP, then it's Bob Dudley. I'd be very surprised if he didn't have some understanding with relation to TNK-BP before he did the deal."

The nature of that understanding remains unclear, although there's one obvious possibility: a rumored takeover of TNK-BP, either by one of the current partners or one of Russia's other oil and gas national champions. Analysts say such a scenario has been doing the rounds for several years now, with AAR looking the more likely to to force BP out. However, BP's deal with Rosneft puts the boot firmly on the UK company's foot. "Now the power has shifted markedly," said Nash.


Given that Sechin and Rosneft are unlikely to want their new relationship mired by a jealous ex, a buyout at TNK-BP looks more likely. However, alot remains up in the air. It may not be imminent, said Kokin, "but I guess that AAR will be thinking that if it's to be decided that they should be out of the way eventually, then they need to secure the maximum possible price. I wouldn't be surprised if they were to revert to their old habits to provoke a deal."
All rights reserved by Rossiyskaya Gazeta.