Moscow without Lamborghinis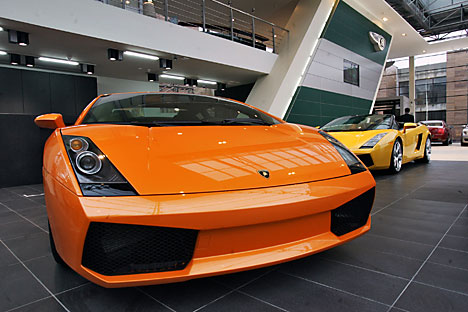 The Italian supercar's distributor is taking it off the Russian market.
Mercury Automotive, the sole distributor of Lamborghinis in Russia, has broken off relations with the Italian manufacturer. The contract between the Russian dealer and the Italian manufacturer expires in May, at which time the brand's two Russian dealerships - one in the center of Moscow and the other on the prestigious Rublevo-Uspenskoye Highway - will close. The distributor thinks further cooperation with Lamborghini makes no economic sense, according to the head of Mercury Automotive's automobile unit, Oskar Mamedov. Last year, just 10 cars were sold.
A website for Russian fans of supercars has described Mercury Automotive's decision as strange. An average of 20 Lamborghinis were sold in Russia every year from 2005-2008. The financial crisis affected demand and, in 2009, only nine cars were sold. In 2010, Laborghini sales increased by one car, however, sales of Ferraris increased by 14 percent to 32. Maserati has emerged as the most popular Italian car, with 66 of them sold last year, up 88 percent from 2009. Independent car expert Konstantin Prokhortsev believes that slow sales growth may have been the reason the distributor has abandoned the brand. He calculates that Mercury Automotive has reason to cooperate with a brand only if sales amount to about $4 million a year. Given that the average price of a Lamborghini is $150,000–200,000, the sale of 10 cars fetches about $2 million, which does not make economic sense for the distributor. Obviously, Lamborghini showrooms hardly brought in bumper profits even before the crisis.
The absolute leader on the Russian supercar market in 2010 was Bentley, which sold 129 cars in the country. High-end motorcycles are also extremely popular in Russia alongside premium-segment cars. Last year, Mercury Automotive sold 290 Harley-Davidsons.
Officially, Mercury Automotive has declared that it is jilting Lamborghini in favor of other brands--so Russia's superrich can expect new brands to appear in their neighborhoods.
Why Lamborghini failed to gain the same popularity as other Italian supercars on the Russian market is a mystery even to the experts. Prokhortsev believes one reason was that the company failed to promote the brand properly back when it entered the Russian market. As a result, Ferrari simply crushed Lamborghini, because its brand was more familiar in Russia.
Yet other analysts think the Russian market has not yet seen the last of Lamborghini. It is possible that Volkswagen Group, which offers the brand, might find another distributor or deploy its own sales and service network for these supercars.
All rights reserved by Rossiyskaya Gazeta.