Investors in Russia won't be scared off by terrorism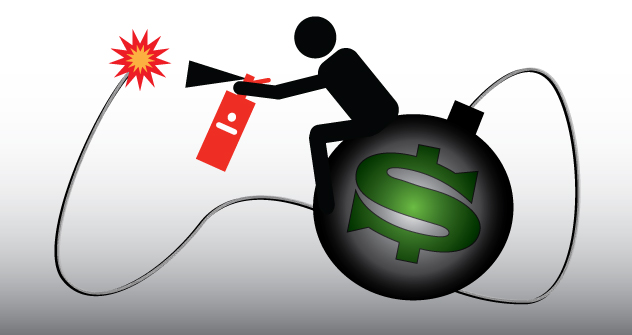 Although the recent bombing at Domodedovo was unquestionably a tragedy, investment in the country is unlikely to suffer too much.
Happy New Year everyone! It may be February, but for me it's great to be back writing for RBTH after a fantastic Christmas and New Year break. I actually spent my Christmas in Russia, which was quite interesting as Russia celebrates Christmas on Jan. 7. Despite this, I still had some friends over on Dec. 25 to celebrate, and I had great start to the New Year.
Last year ended on a great note as my final blog post on racism ended up being a print piece that was featured in the RBTH supplement of the Daily Telegraph (UK). This year I wasn't too sure where to start. Unfortunately, the tragic bombing at Moscow's Domodedovo airport on the Jan. 26 made that decision for me, and it also brought the realities of terrorism to the forefront of my mind.
Before I go any further, I would like send my heartfelt condolences to the victims and the families of the victims, as well as my prayers for the injured, that they may have a swift recovery.
For me the bombing was a reality shock. DME is my favorite airport in Russia, mainly due to its modern amenities and open, airy structure. I have often enjoyed lounging around in the early hours of the morning, waiting for flights either into or out of Russia. I have often waited in the arrival terminal for my luggage and I was actually annoyed that my visa did not last beyond Jan. 11, which forced me to return to London. Now I am quite grateful my stay was not extended any longer as, God forbid, I could have easily been one of the passengers flying through the airport on that fateful day.
It's horrible to think about it, but when I reflect on what I enjoyed most about DME, I think about the relaxed nature of the airport, which is now pretty much ruined forever. I often wondered why there was a body scanner at the front of the airport that was never manned or used, and I was often angered when a taxi driver touting his fare managed to wrangle through to the luggage terminal. Now I have mixed feelings, the relaxed sense of the airport, that sense of "hassle-free" that you just don't have at JFK or Heathrow will be gone, but at the same time, rightly so. DME needs to have tighter security, and although this will most likely affect us innocent passengers it seems to be the only way to prevent further attacks in the short and medium term.
In the long run, this battle has to be fought elsewhere; the root needs to be tackled. However, this post is not about my thoughts on DME security, or the reasons and ideology of the terrorists who committed this heinous attack. The sad reality is that these attacks will continue to happen.
So we come to question at the heart of this post: How do these sorts of acts affect investors and subsequent investment in the region. If we focus in on Russia, I am pleased to report that the large companies, markets, etc., seem to be unaffected. In this particular case, fault seems to lie with the security around the airport, and the blame appears to be restricted to this area (apart from the ideological reasons). The reports I have seen and read state that the markets didn't flinch too much and some drops in airline stocks were anticipated but a bounce back was expected.
If we consider smaller funds, individual investors and SMEs operating in Russia – how does acts of terrorism and in particular this act affect their actions? Speaking as part of that group, I am happy to say, from a personal view, not much at all, and I believe that others in the group will probably display a similar sentiment. I think objectively this is a triumph, as it means we are determined to continue. The terrorists aim to disrupt life in order to force action. This behavior and technique to bring attention or to force a decision is abhorrent and when things continue it is proof that the terrorist act did not work. So why will I continue to fly from DME after such an incident? Well, it is one of the main hubs that gets me to where I work. Nothing has changed. The opportunities that are available in Russia are still there; why would I abandon this? I think on a subconscious level, I simply believe that the Russian authorities will handle this (rightly or wrongly). I believe that the DME management will tighten security, most likely to my personal discomfort, but to my maximum safety. This belief should not just be dismissed, instead we should question as to why it is there. The Russian government is doing its best to tackle terrorism like most countries. Some people believe these efforts are not enough, and I have read that corruption has a lot to do with it. I actually agree with this, but what I believe is that Russia will be able to tackle corruption over the long term with their current resolve and ambition. They know it needs to be drastically reduced and removed. Although, sadly other incidents may happen during this period, I believe there will be a steady improvement in the correlation between words and action.
Russia also has the eyes of the world following it due to forthcoming events in the country. From an economic point of view, it would be crazy not to do everything possible to assure people that Russia is a safe place, as this will result in more people coming to events like the 2014 Sochi Winter Olympics, which in turn results in more direct economic benefit for the country.
You then have to assess personal risk. Anybody doing investment will understand risk, and when working in emerging markets, your propensity for risk-taking is greater. From my perspective, when assessing all of the above I actually believe my personal risk after the event will decrease due to the measures I expect will be implemented from now on at DME. Given that I was fortunate enough not to be involved, my personal risk decreases, as all other factors outside of the airport largely remain the same. Actually, it might even out due to the slightly higher risk of tension within the country as result of this incident.
In short, it would take a lot to prevent me from seeking out the opportunities that Russia has to offer, and I believe every investor operating in the emerging markets think in these risk terms. If the personal risk increases to an unacceptable level, there will be a drop in investment for Russia, but until then, people operating in Russia already have a large appetite for risk and this is unlikely to be quashed by isolated terrorist attacks.
All rights reserved by Rossiyskaya Gazeta.