E-books booming in Russia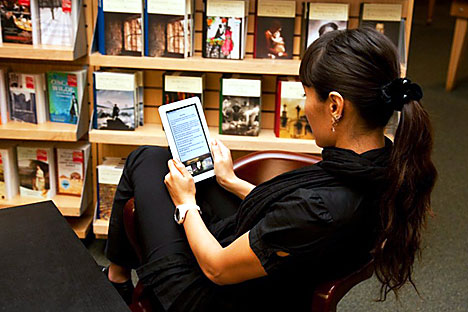 The availability of a e-book reader formulated for the Russian-language market could spur growth in the publishing industry.
E-books and digital readers could give a shot in the arm to Russia's ailing publishing industry, opening up the market across the former Soviet space to more literature, according to industry observers. Russia has a long literary tradition, and favorite classic writers like Alexander Pushkin continue to enjoy superstar status, even today. But the publishing industry has failed to catch up with Russians' love of books.
"Russia has very little physical distribution of books. There are no nationwide chains like Barnes and Noble or Waterstones," said Simon Dunlop, co-founder of digital download company Bookmate.ru.
At the moment, 80 percent of books in Russia are sold in Moscow and St. Petersburg, with only 20 percent sold in the regions, according to estimates from booksellers Bookmate and Ozon.ru. But digital distribution of literature could overcome the huge logistical challenges of selling books across the vast territory in Russia.
"With digital media, there are no border controls, no customs and no transport costs," said Dunlop, adding that with nine time zones, no other market in the world is quiet as suited to e-books.
One of the former Soviet Union's claims to fame was to be a "nation of readers," and Russia remains a highly literate society with literacy rates on a par or higher than that of its peers in Western Europe. However,Internet piracy has held back the development of the publishing industry, with illegal downloads robbing publishers of the revenues they need to promote young and up-and-coming authors.
E-books are already thought to be the leading legally downloaded product on the Russian Internet by industry experts; according to Dunlop, the number of downloads from Bookmate has been growing exponentially in the last year.
The rising popularity of e-books is easy to see; it seems that every wagon on the Moscow metro has at least one or two people clutching an e-book reader. And the rising demand for affordable readers has already been met with a popular cheap and and effective Ukrainian-produced e-reader. Oleg Naumenko, the 29-year-old Ukrainian entrepreneur who launched the best-selling Pocketbook e-reader, realized that an e-reader designed for the Russian-language market could profit from the huge amount of free (pirated) files on the Internet without itself infringing in any way on copyright laws. Before the Pocketbook, the drawback of such files was the inconvenience of reading from printouts or LED displays. Naumenko's Pocketbook e-reader range, which costs around $300, does not come cheap, but users recoup their investment quickly if they use it as a substitute for buying hard copies of books.
The crisis year of 2009 was a breakthrough for Pocketbook; it sold 142,000 devices in 2009, earning $37 million. Around 60 percent of the devices were sold in Russia and most of the rest in Ukraine. According to SmartMarketing, Pocketbook captured 43 percent of the Russian market, with Sony a distant second with 24 percent. Pocketbook's success is expected to continue in 2010, with earnings estimated at $150 million. The company has grown so fast that it has only now started to build up a sales network - 85 percent of 2009 sales were made via the Internet. Naumenko has also established an e-book where licensed files cost a fraction of hard copy.
With 150 million Russians and 110 million in the CIS currently online and double-digit growth in the spread of Internet capability, the market has huge growth potential. "As long as people have an internet connection you can start to use the power of technology to crack open new markets," Dunlop said.
All rights reserved by Rossiyskaya Gazeta.