Russian pharmaceuticals get leg up from the Kremlin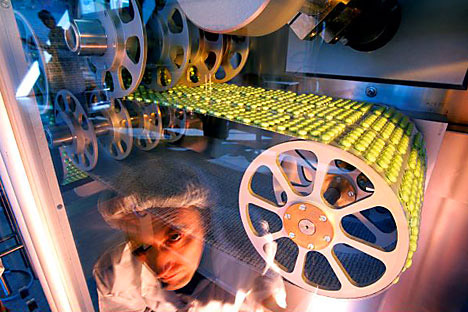 Russian and Western pharmaceutical makers are taking a new look at their positions ahead of changes in the sector expected later this year.
Foreign drug manufacturers are racing to bolster their positions in the Russian market in order to circumvent tough new rules on imported medicines that will be imposed this year, and the domestic market is set for a new growth spurt.
Late last year, Prime Minister Vladimir Putin unveiled a new two-decade long plan to modernise the country's pharmaceutical industry and to give local firms a greater presence in international markets, with $3.9 billion in government funding. Putin said he wants 90 percent of Russia's vital medicines and 50 percent of its medical equipment to be domestically produced by 2020, and wants to increase exports eight-fold. Foreign pharmaceutical companies and medical equipment manufacturers will have face restrictions on selling their goods in Russia if they do not bring their technology and manufacturing facilities into the country, he warned.
"We will have restrictions for them on our market if there are no imports of manufacturing facilities and technologies," Putin said, adding that the trade barriers would be implemented in a gradual way.
Dmitry Genkin, CEO of Russia's Pharmasynthez which raised $17.6 million in a November IPO said that Russia has struggled with the Soviet legacy of building most of the pharmaceutical industry in Eastern Europe.
"It left us with a huge gap between fundamental sciences and applied science like medicine when the Soviet Union collapsed," Genkin said.
Russian firms have long awaited government support, but current spending levels in Russia fall far short of the money spent to support research and development in Europe, according to Genkin.
"The money being spent by the Russian government is still peanuts compared to spending by the European Commission or the U.S. National Institutes of Health," he said
Nevertheless, Russia's pharmaceutical market is growing twice as fast as U.S. and European markets and has already become a key battleground for pharmaceutical companies whose sales have stalled in western markets as patents expire.
"The pharmaceutical market, boosted by consumer and government spending is set to outperform Russian GDP while the fragmented regional pharmacy segment offers big consolidation potential to leading chains," according to a statement by Russian brokerage Uralsib.
Western drug giants are determined that they will not be caught out by import barriers and are setting up domestic manufacturing bases in Russia to cash in on the market's growth potential. Just before Christmas, Swiss giant Novartis said it would invest $500 million in Russia over the next five years, building a manufacturing plant in St. Petersburg to focus on local manufacturing and R&D partnerships with local companies. Switzerland's Nycomed and Denmark's Novo Nordisk have also announced plans to start producing in Russia, while UK-based GlaxoSmithKline struck a vaccine deal in November with Binnopharm, headquartered in Moscow. French giant Sanofi-Aventis in January appointed a new emerging markets management team to boost their market share in Russia, which it considers as one of its key markets.
Meanwhile, Russian companies are also looking at markets overseas. Pharmasynthez said it will use part of its IPO funds to purchase pharmaceutical producers in Europe, as well as in the US and Israel. Pharmasynthez is looking for small, growing and profitable companies that own production facilities, according to Genkin.
With the push to promote the domestic pharmaceuticals, the Kremlin has opened up a new front in the war to diversify the Russian economy. Analysts are excited by the government's iniative as it gives them a new sector to invest into. In the last week of January Russian investment bank UralSib launched a re-initiation of research into the pharmaceutical sector with a report entitled "Just what the doctor ordered."
"Russian pharma producers offer an excellent domestic story and access to defensive market niches and strong cash flows. The relative underperformance of Russia's pharmaceutical market by comparison to other BRIC markets is compensated for by the market leaders' higher margins and consolidation potential," Uralsib analyst Tigran Hovhannisyan wrote in the report.
All rights reserved by Rossiyskaya Gazeta.