An American in Moscow, 1937-1938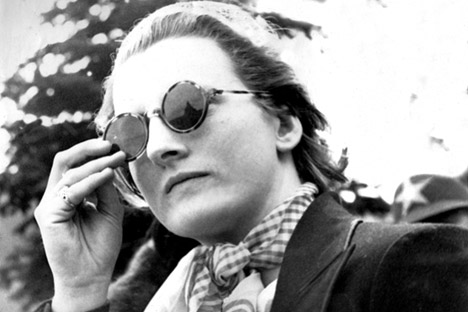 The family of American Ambassador Joseph Davies enjoyed a remarkable year in Moscow from 1937 to 1938; his daughter Emlen Davies, recorded her experience in photographs, revealing an alternate vision of Moscow in the 1930s.
Newly restored photographs on exhibit at the Hillwood Estate Museum in Washington, D.C., offer a powerful chronicle of diplomatic life in Moscow in the late 1930s. The work reveals an elite American family soaking up the culture and beauty of Russia and an ambitious ambassador in the throes of pre-war diplomacy.
Located at the Hillwood estate dacha, a traditional Russian-style summer cottage, the exhibit is also revealing for what we don't see: A Soviet Union in the depths of Stalin's terror.
In 1937, Emlen Davies took a year off from Vassar College to go to Moscow with her father, Joseph Davies, the second ambassador of the United States to the Soviet Union. Ambassador Davies had divorced Emlen's mother, and remarried the heiress Marjorie Post Davies, who became the renowned hostess of Spaso House, the diplomatic residence. It was this posting to Moscow that began Marjorie Post Davies metamorphosis into one of the most important collectors of Russian art, which is now housed at Hillwood, her former estate.
Emlen Davies recorded her life in Moscow in photographs, developed into 2X3 prints. The photos were her personal mementoes, and were kept in a box for more about 60 years. They would have stayed there too, if Emlen Davies' daughter hadn't asked her mother a critical question.
Emlen Davies and Mia Grosjean. Photo by C.B. Grubb.
"I was reading through her letters and diaries and I said, 'Don't you have any photos?'" Mia Grosjean recalled recently. It turns out she had an entire collection of photos. Grosjean had never seen them. Some were obviously significant, at least as a personal history. But Grosjean also soon knew she had a glimmering shard of history in her hands.
When Mia Grosjean first saw a small print of her mother in Moscow in 1937, she didn't think too much of it. Then her mother mentioned that the image was syndicated in the late 1930s because of the Kremlin in the photo. "What Kremlin?" Grosjean asked. "The one in my sunglasses. We weren't allowed to take photos of the Kremlin." Grosjean made a large digital copy and sure enough—there was the reflection of the Kremlin.
Grosjean carefully enlarged the photos and put them together with recollections from her mother, culled from Emlen Davies' unpublished memoirs, private letters, scrapbooks and diaries. "Thanks to Mia," Davies wrote in the Hillwood brochure about the exhibit, "my private collections have taken on a life of their own."
"It feels like Emlen is taking you with her," said Estella M. Chung, the museum's curator and historian. "Mia has done a beautiful job restoring the photos, letting us walk into the images. What we see with visitors is an interest in the digital photography too. This shows what you can do with personal materials. We are so happy to have it."
The photos also include images of Lenin's tomb with cars in front of it, taken from the embassy limousine; the Victory Park sidewalks covered with snow; and the outside of the Bolshoi Theater, shot on Galina Ulanova's opening night.
Nothing visible seemed to be off limits for Davies. "They were able to do whatever they wanted; they took photos of everything," Grosjean said. In one memorable photo, Davies and his wife are walking on a road framed by birch trees, the ever-present Soviet secret police car close behind.
But nothing was ever confiscated. In fact Marjorie Post Davies left the country with an enormous amount of pre-revolutionary and early Soviet artifacts, art and porcelain that makes up the core of the Hillwood collection today.
A few photos show Emlen's stirring sense of another Moscow separate from the world she participated in. The harshest image is that of a pale and unhappy looking flower vendor in front of a toy store on Krasnaya Presnya Street. The vendor is selling the miniature bunches of lily-of-the-valley in green tissue that are still sold on the streets today. She is also selling many different bouquets of plastic flowers. "There were no greenhouses in Moscow that we knew of," Emlen Davies writes in the photo caption. All the photo captions are her recollections of the photos, in her voice.
It did not take long for the young Davies to discover that Moscow nights could be long. "During those long winter nights, the nightlife was really important, and people gave parties," Grosjean said. Emlen Davies hosted a "Come As Your Secret Desire" party, and the Bolshoi Theater decorated the event. It appears from the crowd that the Bolshoi also loaned them costumes. One guest came shimmering in a gold gown with dark fins and a tail (she was a goldfish). The Italian ambassador and his wife may have gotten their costumes elsewhere, as they were dressed in cowboy and cowgirl attire, straight out of a Cecil B. De Mille film.
Grosjean says she is not finished with this project. She has about 150 unrestored photos and many more memories to pore through. " I would not have [shown these images] without mom's permission," she said. "She took a few months to say yes, and only three or four weeks before the opening did she say she would come." Emlen Davies, now in her 90s, mesmerized to the audience. Said Grosjean: "It was a memory you would kill for."
The exhibit "A Photographic Journey of the Ambassador's Daughter: Moscow 1937-1938" runs until May 29, 2011 at the Hillwood Estate Museum, Washington, DC. For more information visit http://www.hillwoodmuseum.org/exhibitions/Exhibitions.html
All rights reserved by Rossiyskaya Gazeta.