Bollywood bridge gets a new sparkle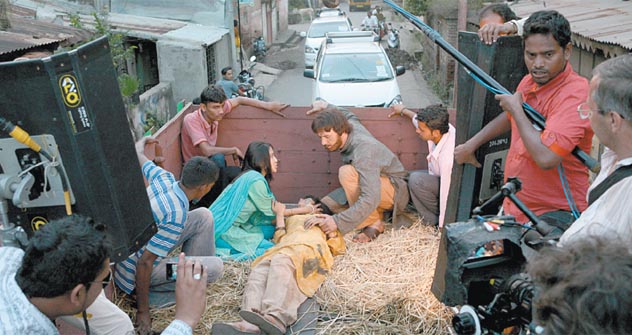 When Medvedev came to India last year, he visited a film studio in Mumbai. Not just stars, but joint ventures flowed from Bollywood. Source: kinopoisk.ru
When Medvedev came to India last year, he visited a film studio in Mumbai. Not just stars, but joint ventures flowed from Bollywood.
In this story, there are no full stops. Russia's love affair with Bollywood continues. When the youthful Russian President Dmitry Medvedev dropped in at the famous Yash Raj Studios in Mumbai during his visit to India in December last year, sparks flew. A fan of the legendary Raj Kapoor, who enjoyed an iconic status in Russia, it was sheer joy for Medvedev to see his grand-daughter Kareena Kapoor dance with her co-star Shahrukh Khan on the sets of Ra.one, an upcoming Hindi superhero flick.
"We wanted to shoot the song in his presence, but due to security problems, we just showed him the dance steps we were rehearsing," said Khan while recalling his chat over coffee with the Russian president.
Medvedev spoke fondly about a 24-hour television channel dedicated to Indian movies in his country. "Russians love the bright, original, ethnic-oriented movies made in India. The symbols depicted in the movies are easy to understand," he said. "We find the way you dance very interesting and fascinating. The love for Indian cinema is long-standing in Russia," he said.
But the brief visit to the film studio was not simply nostalgia and tinsel town talk. Business and diplomacy deftly blended with showbiz. Medvedev spoke about an Indo-Russian venture entitled 'The Hindu', starring Indian actress Panchi Bora and popular Russian actors Yegor Beroyev and Marat Basharov, which is doing well in cinema halls in his country. The film is about a great surgeon who tries to create a new implant to make broken bones heal quickly. Russians first saw it in October, 2010 on the Rossiya 1 channel. The film is now going to be released in India, with two channels, having purchased rights to screen it. DD plans to show the film in 150 countries.
Joint ventures were also firmed up and unveiled. Russian World Studios (RWS) and Reliance Media Works Ltd., India's leading cinema and entertainment company, signed a pact on joint restoration and digitisation of films. The joint project will finance remakes of films by Raj Kapoor, featuring Russian and Indian actors. The agreement also involved Obyedinennaya Gosudarstvennaya Kinokollektsia (United State Film Collection), Russia's federal state enterprise that preserves and manages the Russian film archive.
Clearly, many film moguls in Russia are thrilled by the prospect of cooperation with the world's biggest film factory. "We are ready to provide good conditions for the work of Indian film-makers on our market. Incidentally, we are all interested in regulation of the cinema, in the sphere of copyright and financing opportunities being more transparent, more understandable and more universal," Medvedev said.
Another idea that cropped up during the meeting was to make a sequel to the Soviet-Indian film "A Journey Beyond Three Seas", based on the travel notes of Afanasy Nikitin, a Russian merchant from the town of Tver, who visited India in the 15th century. "I promise that the love affair between our films and your country that began 60 years ago will continue," Randhir Kapoor, son of Raj Kapoor, star of Awara (The Vagabond), said.
Awara became so popular in Russia that it continued to shine on the cinema screens until 1986. It was seen by 10 million people. Looking at it as a good alternative to Hollywood, the Soviet government bought 250 Indian films at one stroke. Jawaharlal Nehru, India's first prime minister, joked that Kapoor was better known in Russia than he was.
Building upon this legacy, film makers are thinking up joint projects. "Of course, India and Russia have very different audiences," says Sapronov, general director of RWS. "Making a joint project that would interest both you and us is a challenge. But opportunities for cooperation do exist."
"Russia is looking for various forms of cooperation with India. Because Indian cinema was hugely popular in the USSR, it was decided to start from there. India produces as many as 1000 films a year, more than Hollywood," says film critic Daniil Dondurei.
"Medvedev naturally believes that India's leadership could be adapted to our interests even though Indian films are not yet bought for distribution," he added.
No biz like showbiz: $1 bn and growing
Russia's film distribution market grew by 40% in 2010 to finally breach the $1 billion revenue threshold, becoming the fifth biggest in the world, says Russian Film Business Today.
The film distribution business has recovered with a vengeance. It is expected to touch around $1.05 billion, says website Kinobusiness.com. Russian distributors dominate the CIS space, whilst Russian revenue accounts for around 97% of the total.
The result represents a strong recovery from last year, when receipts plunged to $736 million from $831 million a year earlier. The rouble's rapid fall that year played a significant role. According to analysts at Nevafilm, local currency box office revenues still grew by 13 pc. Whilst the financial crisis softened consumer spending, the corporates mostly bore the brunt. Ordinary Russians merely tightened their belts a little.
PricewaterhouseCoopers forecasts that the Russian entertainment & media market will expand at a compound annual growth rate of 9.3% in its report entitled 'Global Entertainment & Media Outlook 2010-2014'.
Higher ticket prices has driven up the revenues. Cinema audiences only increased by 14.9%, indicating Russian consumers are ready to pay more for higher quality.
The Russian box office will continue to grow at a similar rate to the overall E&M rate, to the point where it will account for 63% of the total receipt growth in all CEE countries and peak at $1.78 billion by 2014. Modern multiplexes are the biggest driver of the move to quality and consequent rise in ticket prices, with more than half of Russia's modern screens now housed in retail and entertainment developments. These modern screens have helped as Hollywood blockbusters such as Avatar and Shrek Forever After demanded 3D presentation. The share of multiplexes in the total number of modern screens in Russia was until recently increasing at a rate of at least 30% per year.
All rights reserved by Rossiyskaya Gazeta.