Rodchenko: Man with a camera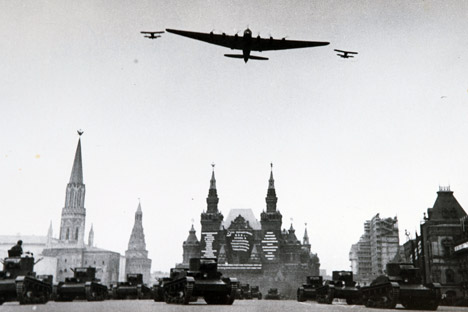 Parade on Red Square, Moscow 1934 / by Georgi Zelma
A new exhibit in London boasts never-before-seen photographs by Alexander Rodchenko and his contemporaries.
The London gallery Art Sensus is hosting one of the most comprehensive photographic exhibitions ever of pioneering Soviet avant-garde photographer Alexander Rodchenko. More than 200 works by this famous photographer previously held in private collections and national galleries are available to view and to buy. They provide unique photographic coverage of the 1920s - the "gap epoch," as it was dubbed by Yury Tynyanov, a writer and theorist of the period.
Constructivist Alexander Rodchenko (1891-1956), successful artist, sculptor and founder of Soviet design and advertising, approached photography with the motto: "We must experiment!" This approached turned the art of photography upside down and laid the foundations for his signature style. The "Rodchenko method" consisted of an open diagonal composition designed to reflect the dynamics and power of the new man of the new state; angle shots; top and bottom views; and high contrast graphics, is now the basis of professional photography. In the 1920s, it was used widely used by both like-minded artists and Rodchenko's political and artistic opponents. Rodchenko discarded the studio traditions in his lesser-known pictures too, such as Emergency Service (1929), in which half of the picture is taken up by a red cross against a white background—the photographer's response to Kazimir Malevich's black square.
In addition to works by Rodchenko, the exhibit also includes more than 500 photographs by his followers and fellow artists, many never before seen. These photographs by Naum Granovski, Simon Fridland, Max Alpert, Evgeni Khaldei and Georgi Zelma expose life in the Soviet Union in striking detail, from parades and sports events, to the construction of the White Sea Canal (Belomor Canal) construction, to Artek, the Young Pioneer camp.
"Rodchenko and his Circle: Constructing the Future through Photography" runs until March 19 at Art Sensus, 7 Howick Place, London SW1, www.artsensus.com
All rights reserved by Rossiyskaya Gazeta.