Russia bounces back, mega FDI deals pump up confidence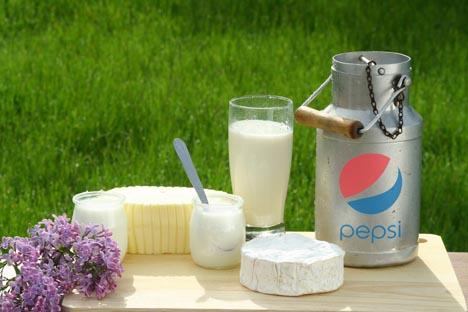 PepsiCo Inc has established itself as Russia's largest food-and-beverage business with a $3.8 bn takeover of juice and dairy king Wimm-Bill-Dann. Source: PhotoXPress
The twin BP and Pepsi deals have bolstered confidence of global investors in Russia. The FDI spike is set to boost the modernisation drive by bringing cash and expertise.
If sceptics thought President Medvedev was doing a hardsell in Davos, they are a bit out of sync. Big-ticket multi-billion FDI deals preceded Medvedev's trip to the Swiss resort, underlining an increasing global confidence in Russia's business climate.
Oil giant BP's share swap deal with Russian state-controlled oil company Rosneft kicked off 2011 with the same message that Pepsi's $3.8 billion record breaking investment into juice-maker, Wimm-Bill-Dann offered at the end of last year – Russia is a "must-do" investment for leading strategic investors.
The two deals have been welcomed by the Kremlin that launched a major initiative to modernise the country last year by luring large investors that bring not just cash, but badly needed technology and management skills.
Modernisation climbed to the top of Russia's political agenda following the 2008 economic crisis, which exposed the flaws of the economic model built since 2000. "The slump proved that the model was not capable of delivering stable long-term growth," says Roland Nash of Verno Capital.
Foreign investors can also bring in more efficient management, expertise and technology. At the same time, they bring capital and competition to spur growth. The twin BP and PepsiCo deals hold the key as they will bolster the confidence of other strategic investors to invest in Russia, but many commentators were more concerned with the Russian government's entry through the stock swap. "Very few see this deal for what it was -- the next logical step in the modernisation of Russia and a milestone in attracting large-scale foreign direct investment (FDI) into the Russian economy," says Plamen Monovski, chief investment officer at Renaissance Asset Mangers. Russia has a relatively poor track record in attracting FDI, weighed down by a reputation for bureaucracy, sleaze and poor corporate governance. While the levels of FDI started to recover to $40 billion in 2010, the second highest amongst all emerging markets, it is still half that of 2008. However, the pace picked up fast at the close of the last year. A third of global M&A deals were struck in emerging markets last year, but Russia closed $34 billion of transactions in the last quarter of 2010 alone, on a par with China's $38 billion and well ahead of Brazil and India. "We are being asked what has changed in Russia, why now all these deals are being signed. The regulations have changed considerably; normal conditions have been created," BP Chairman Carl-Henric Svanberg said in Davos.
Indeed, while the total volume of deals remains depressed, the size of the deals is going up as strategic investors commit themselves, eyeing Russia's abundant natural resources and its 142m-strong population. Analysts expect the pace to pick up this year and Medvedev attended the signing of $1 billion joint venture between Exxon Mobil and Rosneft at the forum itself. "The deals don't necessarily mark a turnaround in sentiment," suggests Pavel Sorokin, an analyst at investment bank Alfa, "but may be a first step. These deals are being made in strategic enterprises which are the pillars of the Russian economy."
Last year's focused drive for high-tech investment has provoked pledges from the likes of IBM, Siemens, Phillips, and Microsoft to open R&D facilities. This year, the hot sectors are likely to be transport and infrastructure; late January already saw a plan to build a 50 billion euro high-speed rail network for the 2018 World Cup, with private companies contributing a third of the financing.
Russia is best known for its natural resources, but the PepsiCo deal highlights that Russia's emerging middle class is now capturing the attention of multinationals like PepsiCo, which has become Russia's biggest food producer after the deal. Italian bank UniCredit is also rapidly expanding to tap into the pool of household money, saying it will add hundreds of retail branches in Janaury. And the Thomas Cook Group travel company has also taken the plunge into a country widely predicted to become the biggest consumer market in Europe within a decade.
Inflation may derail recovery
As Russia emerges from the economic crisis, it's running straight back into more traditional tussles. With food prices soaring, inflation now threatens to become a real drag on a return to strong economic growth, whilst capital inflows threaten more bubbles. Inflation came in at 8.8% last year, after running in double digits for more than two decades. However, at the same time, the price of the monthly basket of basic goods used to define the poverty level jumped 22%, to $87.50. "The reappearance of inflation could derail Russia's economic recovery as it hits the Russian consumer's pocket directly. With oil prices expected to be more or less flat in 2011, it will be the strength of internal consumption that will set the pace for economic growth this year," says Alexey Moiseev, chief economist at VTB Capital. "The rise in food prices is the major concern and a part of the current global upward trend," he said.
All rights reserved by Rossiyskaya Gazeta.