India, Russia exploring JV in solar photo-voltaic cells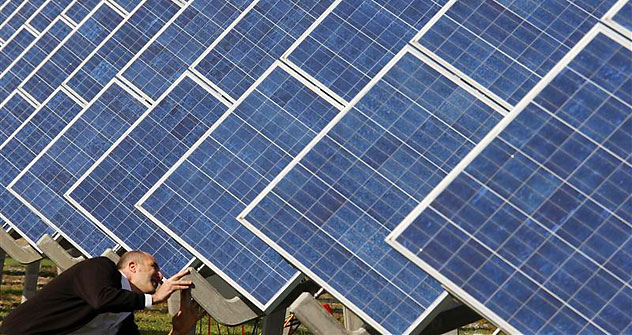 Faced with burgeoning demand for silicon wafers, India is exploring possibilities of setting up a joint venture company in Russia to source the key component required for its fledgling solar energy initiatives.
This came up for discussion during the recent meetings top officials of RUSNANO, the nanotechnology initiative of the Russian government, had with the Department of Science and Technology (DST), MSN News reported. A RUSNANO team met a cross-section of business leaders, officials, researchers, including C N R Rao, Chairman of the Science Advisory Council to the Prime Minister and G Sundararajan, Chairman of the Nano Applications and Technology Advisory Group.

As per the plans, India and Russia are exploring avenues to set up a joint venture company, at a cost of Rs 1,000 crore to manufacture silicon ingots which could be brought here and sliced into thin wafers to make photo-voltaic cells for its ambitious solar mission, DST officials said.

RUSNANO Chief Executive Officer Anatoly Chubais told PTI that his company was exploring avenues to bring its nanotechnology initiatives, including in photo-voltaic, to India.

According to MSN News, the company has an impressive list of projects, which include a few solar energy initiatives. It is also setting up high-tech complexes to manufacture polycrystalline silicon and monosilane.It also offers a variety of products, including solar photo-voltaic power stations and efficient solar modules.

DST officials are also pitching for a strong research component into the joint venture which would enable Indian scientists participate in further development of solar photo-voltaic cells, MSN News reported.

Currently, companies launching solar power projects source silicon wafers from the international market which witnesses massive fluctuation of prices, DST officials said.The joint venture company could offer stability in prices and assured supply, they said adding India was looking at sourcing 2000 tonnes of silicon ingots from this venture.

According to MSN News, RUSNANO, which has received USD 10 billion fund from the Russian government, invests in six clusters including solar energy, nano structured materials, medicine and biotech, mechanical engineering and metal working, optoelectronics and infrastructure projects.
All rights reserved by Rossiyskaya Gazeta.