Russian hermit is expelled after 15 Years in India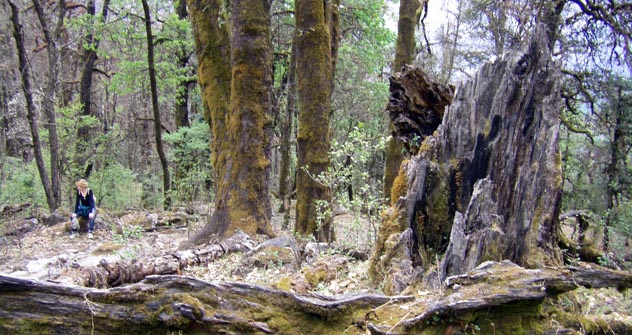 Kirill Pomerantsev has spent 15 years as a cave-dwelling hermit near Manali, in Himachalan Pradesh.
Indian authorities have expelled Russian Kirill Pomerantsev from the country. Pomerantsev has spent 15 years in India without a visa or any identity papers.
Pomertantsev's story is unique not only because he has been living illegally in India without identity papers for 15 years, but because those 15 years have been spent as a cave-dwelling hermit near Manali, in Himachalan Pradesh. Neither the police nor local authorities were aware of his presence.
In January of this year, Pomerantsev appeared at the Russian Embassy with his unusual story. He had visited India several times before making the decision to remain in the country and live as a hermit. In 1995, he entered India on a six-month tourist visa and has remained since. According to Pomerantsev, he became interested in Hinduism and decided to lead a hermit's life in the wilderness. Now he would like to return home.
Once the authorities were alerted to the presence of the Russian hermit, the Indian media aired stories alleging Pomerantsev's involvement with drug trafficking. However, the police have not confirmed these allegations. Pomerantsev was granted permission to leave the country following the completion of a several weeks-long enquiry.
Pomerantsev agreed to talk to a RIA News correspondent before heading back to Russia.
"Indeed, I have spent 15 years here in India. My mind and heart were immersed in the Indian religion. I was 27 or 28 years old when I made the decision to remain here. Now I am 42 or 43," he says. "I was advised that if I wanted to achieve progress in my religious pursuits, it would be best to spend 12 years in the wilderness in order to reflect and read Hindu religious literature. This would make spiritual progress possible", explains the Russian Hindu.
Sadhus are not rare in India, but a Russian leading a hermit's life in the wilderness following Indian religious traditions could have resulted in controversy among the local population.
"There are no issues in the wilderness. The local people are extremely kind; they helped me in every way possible, sharing their potatoes, beans and flour with me", notes the Russian.
Pomerantsev explains that in addition to the food he was given by local people, he also ate greens that he picked in the woods. He used the flour to make chapattis.
"I would get up at five in the morning, have a wash, meditate, drink some tea, clean the house, perform puja and study literature. I can read Hindi, a language that I have taught myself", explains the former hermit.
Pomerantsev is reluctant to talk about his past. "I completed my military service, and then bought a flat. I didn't have my own family and I've been leading a life of abstinence since I was 26. I live alone. We are born alone and we die alone ", he says.
But the Russian Sadhu does have parents. His mother visited him a few times and he also received visits from his younger brother.
"I was in the country illegally. I lived without a visa, which is not exactly the best idea. I am going back. What next? Once I'm in Russia, I'll see. I'm not intending to start afresh; I live my own life wherever I am. And I don't need a fresh start!" notes Pomerantsev when answering questions regarding his reasons for returning to his native country.
According to Vasily Pronin, Consul at the Russian Embassy in India, Pomerantsev's story is, indeed, astonishing.
"The longest anyone had ever stayed in India without a visa was from 1991 until 2010 (almost 20 years). This individual, whom I won't name, was of Indian descent although the holder of a Russian passport. He had relatives in India who were helping him. The case of Pomerantsev, who spent 15 years living in a cave as a hermit without a visa or any identity papers, without any relatives in India, is of course a special case and very rare," notes Pronin.
The Russian Consul thinks Pomerantsev has done the right thing by coming to the Embassy and telling his story after 15 years. The Consulate has been supportive, and Pomertantsev escaped with just a fine and brief detention by local authorities while issues surrounding his departure were sorted out. Indian authorities made the decision to remove Pomerantsev from the country.
The diplomat is certain that had the Russian hermit been apprehended by the police, he would have been given a five to six year prison sentence and ordered to pay an enormous fine.
"To put things into perspective, Pomerantsev's expulsion coincides with the removal of another Russian who overstayed his visa by a few months. That Russian citizen was detained by the police and spent six months in a local prison", notes the Russian Consul.
All rights reserved by Rossiyskaya Gazeta.