The case for joint missile defense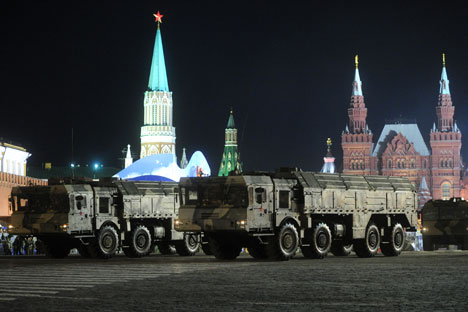 SS-26 Stone tactical ballistic missile. Photo by Maxim Shemetov/ITAR-TASS
The West and Russia should not miss another opportunity to work together.
At present, missile defense is more of a political issue than a military and security one. In the first place, no reliable anti-missile technology is available today; and secondly, the "rogue states" that potentially pose a nuclear missile threat, most notably Iran and North Korea, do not have serious strike capability – yet.
Still, we should not wait until the threat becomes a reality. If a country has the desire and resources to build a system that can presumably protect its citizens from nuclear attack, there is no way of preventing it from doing just that. Actually, Russia inherited from the Soviet Union a limited version of such defense installations, although we do not know for sure how effective it is. In any case, we never hear any misgivings about this Russian system expressed by United States or NATO officials.
However, Moscow does worry that, should the United States and NATO build a very sophisticated missile defense shield, Russia may become vulnerable to attack from the West with no retaliation capability. The leaked news of former Vice President Dick Cheney's suggestion to bomb Russian troops during the August 2008 conflict with Georgia proves that such a scenario is not a sick fantasy.
An obvious solution to this impasse is joint development and deployment of a missile defense system that would make each side feel equally protected from external threats. Of course, this is easier said than done, as Western allies and Russia are divided by a deep mistrust. However, the Obama "reset" policy has already brought some tangible results for the improvement of U.S. – Russia and NATO – Russia relations. Now, some new bold steps are needed to continue this positive momentum. Joint missile defense definitely is one such bold step. It would be unforgivable to miss it.
On the bureaucratic front, it looks like we are moving in the right direction. At the July 2009 Moscow Summit, Obama and Medvedev agreed to form an Arms Control and International Security Working Group, co-chaired by Undersecretary of State Ellen Tauscher and Russian Deputy Foreign Minister Sergey Ryabkov. This forum has discussed proposals for bilateral missile defense cooperation in such areas as joint research and development; joint missile defense testing; joint modeling and simulations; missile defense exercises; and joint analyses of alternative U.S.-Russian missile defense architectures for defense against common, regional threats.
All this sounds pretty good. On top of this, we hear that Russia is forming another separate special group for missile defense cooperation with NATO. According to Dmitry Rogozin, Russia's Ambassador to NATO who was also appointed a special presidential envoy for missile defense, this group will start operating by mid-March.
These are promising developments. However, the existence of very strong opposition to these ideas both in the United States and in some NATO countries should not be underestimated. "On the one hand," Rogozin said, "the Russian Federation has been receiving various invitations to join this project. But when we begin examining these invitations more closely, they don't mean much more than: 'If you pass by my house, just pass by.'"
In turn, United States and NATO negotiators complain that Russian proposals are unrealistic or lack sufficient detail. They also keep insisting that the U.S. missile defense system poses no serious threat to Russia's deterrent capabilities. This is very nice to hear, of course, but the Russian military, like its Western counterparts, has to prepare for all eventualities. That is what defense ministries are for.
Undoubtedly, overriding existing mutual mistrust is a difficult task, but the stakes are too high to miss this chance. We already missed the historic opportunity to make Russia a strategic ally after the collapse of the Soviet Union. Now the idea of a joint U.S.-Russian ballistic missile defense offers us yet another opportunity. No question but that we ought to give it another try.
Finally, let us not forget about China. It is also pretty skeptical about U.S. missile defense plans – to put it very mildly. Sooner or later China will have to be brought into this equation as well. China is already a strong economic partner for the United States, Europe and Russia; I see no reason why it should not become our security partner as well.
Edward Lozansky is the president of the American University in Moscow and the World Russia Forum in Washington, DC
All rights reserved by Rossiyskaya Gazeta.