Why do Russians like blogging more than Indians do?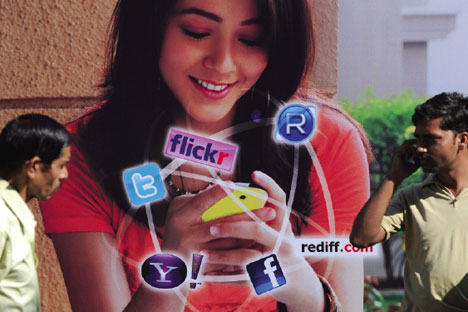 Russia has only half of India's internet users, but blogging is more popular for airing views and dissent, especially among the youth.
India has a population of nearly 1.2 billion with a per capita real income of $810. Russia is home to 141 million people with per capita income of $3,970 i.e. almost five times the income spread over just 12% of India's population. But at more than 40% internet penetration, Russia has about 60 million users – significantly less then India's 81 million at only 7% penetration. Despite these differences, both Russia and India are addicted to e-mail, search engines and social networking.


The buzz that Russian President Dmitry Medvedev apparently learned of the Moscow airport terrorist attack over Twitter shows the power of social networking in Russia. In fact, Medvedev recently won the best Russian-language blogger award for his Twitter and Zhivoy Zhurnal (Live Journal) accounts. Reaching over 200,000 followers and another 84,000 followers for the English page (@MedvedevRussiaE), the Russian president wishes the country on important holidays, comments on security issues and even posts pictures and answers questions by other Twitter users.


Even if the Indian prime minister isn't tweeting, plenty of others are. Shashi Tharoor, a former minister and UN diplomat, is one of the high-profile politicians using Twitter, creating quite a stir in India's staid political class. Bollywood bigwigs Shah Rukh Khan, iconic film star Amitabh Bachchan and Aamir Khan post updates regularly.


According to the Boston Consulting Group's report 'The Internet's New Billion', 75% of India's most popular sites are international – the highest amongst BRIC countries – a phenomenon attributed to the prevalence of the English language. Brazil's Orkut leads the pack on the Indian network, followed by Facebook and Twitter. In Russia, however, due to the predominance of Russian language, local content and sites top the list. Vkontakte.ru – a site modeled on Facebook – is the most popular site in Russia and some former Soviet republics with over 75 million registered users, some of whom likely maintain dual or multiple accounts. Incidentally, when compared to Facebook, Twitter and Orkut, Vkontakte has other uses. Where else can one add Hindi music and listen to old Kishore Kumar numbers? Unlike India, Russia enjoys blogging more than social networking. In Russia, 33% internet users spend their time blogging vs. 15% on social networking sites. With the electronic media largely in the Kremlin's grip, people find blogging an outlet for airing their views and challenging policies.


With the increasing popularity of English, greater availability of content in local languages, and fatter wallets, the social networking phenomenon can only get stronger. India's young population will ensure that it goes in the right direction. But Russia's population is shrinking. Perhaps, it's time Medvedev started tweeting about population control. As for Dr. Manmohan Singh, we'd be glad to hear anything he wants to tweet!
All rights reserved by Rossiyskaya Gazeta.