Twitter challenges old media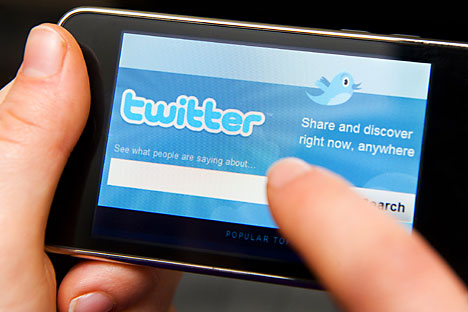 While Russians in metros prefer twitter and blogs for their daily fix of news, it's premature to write the death of traditional media.
The old media versus new media debate has acquired a new piquancy in Russia in the aftermath of the terrorist attack at Domodedovo Airport in January this year. Official media outlets in Russia have faced little criticism from the public for their slow and unprofessional coverage of the recent emergencies in Moscow, such as the Moscow airport attack and the nationalist protests against immigrants at the Manezh Square in December.

Thirty minutes after the Domodedovo bombing, my friend called me and asked "Are you ok? Are you at home?" I answered "Yes. What happened?" "Don't you know what happened? Journalists never know what's happening. Look at Twitter," he said. The first messages about the terror attack appeared on twitter much earlier than in the official media. The popular Moscow-based business portal Slon.ru reconstructed the events in the airport on January 24.

The first tweets about the explosion appeared on Twitter minutes after the bomb went off at 16.32. News agencies reported the bombing half an hour later. The Dozhd news channel and Kommersant FM radio were running reports of the event with eyewitness accounts at 17.30.

The first amateur video of scenes of Domodedovo after the bombing, taken on a mobile phone, was posted on Twitter at 18.20. Ten minutes later this video aired on the RT television channel.The main Russian television channels, however, continued to broadcast soap operas and talk shows, while foreign media such as CNN and BBC carried live broadcasts from the airport and provided expert comments.

Alexei Navalny, a popular Russian blogger, described this as the death of official media in the country. "What happened at Domodedovo is horrible, but it is too early to comment on it. However, right now we are watching the final death of television and traditional media as a source of up-to-date information in an emergency," he wrote. "News agencies, radio and television - they all are quoting messages from Twitter. I first thought about it when the events on Manezhn Square were broadcast there [on Twitter]; now it has become obvious. For the first hour and a half, there is only Twitter."

Other bloggers also pointed out that the coverage of the bombing at Domodedovo in official media was as slow as reporting on the terrorist attacks on the Moscow metro on March 29, 2010. When two bombs exploded in the Moscow metro, at 7:56 a.m. and 8:36 a.m., state TV channels reported the news much later, and continued to broadcast entertainment programmes. Millions of people who live in Moscow and used the metro that morning did not have access to any information and could not understand what had happened or why certain stations were closed.

A poll conducted by the All Russian Public Opinion Center (VTsIOM) found that residents of big cities such as Moscow and St. Petersburg trust well-established media sources less than their unofficial counterparts. Only 34% of respondents from these cities trust official media, while 45% prefer to get information from alternative sources. This may be because the number of Internet users per capita in Moscow and St. Petersburg is higher than the national average and most popular bloggers live in these cities.

However, for most of those who live in small towns and villages in Russia, television and newspapers are still the main sources of information. The survey discovered a trend: the smaller a residential settlement, the more its inhabitants trust official media sources. Secondly, the credibility of alternative news sources has increased since 2008, while the number of people who trust official media has decreased.

But despite this, it's premature to talk about the death of the traditional media. "Recently, there has been a lot of talk about the death of traditional media. However, it is not yet time to lay it to rest," said Olga Vdovina, the deputy director of the MediaGuide.ru Internet portal, which focuses on the media industry. "New media can cover the news faster than television, radio, magazines and newspapers for several reasons. Bloggers do not need to wait for an editor-in chief or media owner to approve their posts. They are also not obligated to check the information they share with readers," she said. "Most bloggers write anonymously using nicknames. Their posts are often very subjective. It seems the only benefit of new media is the quick distribution of information. How can bloggers compete with top media corporations which have a large professional staff?" Vdovina asked.

Paradoxically, even some popular bloggers agree . "We will not receive news from Twitter, either today or in ten years time. The mass media will find news on social networks and report it to us. That's why it is called the mass media," wrote Anton Nosik, one of Russia's top bloggers. "Regarding television, it didn't die when film crews arrived two hours late to Domodedovo. It died when it wanted to decide for us what we want to watch: news, soap operas or 'The Big Laundry' show. In 2011, it is the audience that makes such decisions."

"The question of what are the most popular and reputable media sources is also a generational question. While young people prefer the Internet, many middle-aged and elderly people trust television more."
All rights reserved by Rossiyskaya Gazeta.