Turn left at L'Oreal, right at Toyota, straight on Intel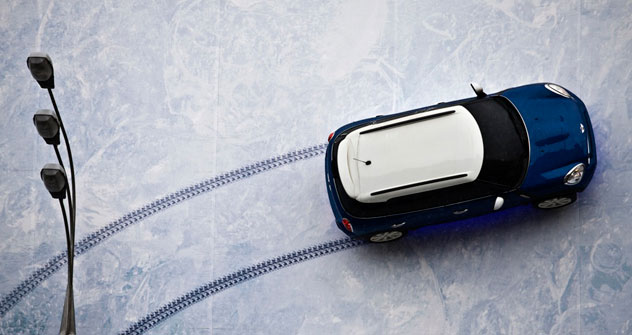 Twenty years ago, a sign on top of a building was an exhortation to work harder. But today even advertising executives wonder about the visual chaos.
Photos by Alexey Mayshev

It looks like a Moscow evening from inside the TGIF restaurant on Pushkin Square, even though it is daytime. There are plenty of windows, yet something stops the sun from coming in.

The building's facade is sheathed in an advertisement for a Sochi ski resort, covering most of the early 20th-century Constructivist building on two sides. The ad, which shows two skiers on the mountain, has the appearance of Soviet nostalgia.

Just across the street, another building is shrouded on two sides with an advertisement for Chanel. Huge neon ads top buildings around the square.

Twenty years ago, a sign on top of a building was a Soviet exhortation to work harder, but Moscow has taken advertising to such an extreme that even business executives say the city has descended into "visual chaos." Moscow is drowning in its advertising-legal, illegal-on roofs, on sidewalks, straddling streets, down the sides of high-rises and pumping neon day and night.

How to reform visual blight

The new city government, which took over after long-term mayor Yuri Luzhkov was fired last year, has vowed to reduce the amount of outdoor advertising in Moscow by 20 percent by the start of 2013, and city officials want much of the historical center to be completely cleared of ads.

"Historical buildings should rule, and not ad constructions in the central postcard area with its panorama views," said Konstantin Mikhailov, an advocate with the architectural preservation group Archnadzor. "It is all because of a desire to get the most money out of every square foot in the city."

Pushkin Square could be Moscow's equivalent of New York's Time Square or London's Piccadilly Circus. But the ads are so ubiquitous that traveling through the center feels like going from one Time Square to another.
The senses are also bombarded by huge video screens and rows of banners that cross over streets, creating a tunnel of ads for traffic just underneath.

"Advertisements have conquered civilization," Albina Kholina wrote in a Russian literary journal. She compared the banners to "knickers drying on a balcony."

And many of the ads are illegal. Last January, the city took down 33 of the "pirate" ads, but the lack of concrete action against those who put them up has fueled more suspicion of city corruption.

Maxim Tkachev, the head of News Outdoor, one of the biggest players on the market, said he and other companies have the "feeling that the city is not interested in transparency and order" in outdoor advertising.

"The flagrant breaking of federal law, Moscow rules and selective application of them has created the visual chaos that we see now," Tkachev wrote in a comment sent to Russia Now.

He pointed to the fact that one of the ads that appeared to be illegal was situated exactly opposite the Moscow City offices. News Outdoor said that a crackdown on illegal ads would cut advertising by 20 percent on its own.

The previous city official in charge of supervising outdoor advertising was arrested and charged with corruption. His case is still ongoing, but he has been replaced under the new mayor.

One expert who follows the market was optimistic about the city's plans under Sergei Sobyanin, the new mayor. "The first step has already happened around the Kremlin and the Novodevichy cemetery," said Andrei Beryozkin, head of Espar-Analitik, which analyzes outdoor advertising in the city.

But it is an ongoing battle. Last summer, even the ground was covered with ads as companies used graffiti-style tactics to cover sidewalks. Legislation has been proposed in the State Duma, the lower house of parliament, to impose large fines to stop the pavement ads.

Apartment dwellers in the dark

Officially, two thirds of an apartment building's residents must give permission before advertising can drape their home, and the money made from renting out a facade is supposed to go to building repairs.

When residents of a building on the elite street Kutuzovsky Prospekt found their light blocked by an Infiniti car ad, they were not compensated.

"Our flats are in semidarkness during the day and a bright electric light flows in the window at night," residents wrote in a letter to President Dmitry Medvedev last year, which claimed that the advertisers were paying $1 million a year.

Residents in that building - where Soviet leader Leonid Brezhnev lived in the 1970s without any neon light disturbing his sleep - succeeded in getting the ad removed.

But pity any flat owners near Smolenskaya Square, where the Golden Ring hotel turns its 23- floor facade into a hyperactive neon light show every night. "It's tacky, annoying and it can't be good for the environment," said Masha, a resident.

The city vowed that future funds from ads will go toward repairs and restoration of the buildings they are hung on.

"The problem is not just the ads," Mikhailov said. "It's the fact that the city does not have a concept for how the city should look."

There is an official city artist, an official architect and committees ostensibly responsible for city planning, but there is no visual plan for development, he said.

"I would just like to see the city that I live in," wrote Kholina, who said the change in the city becomes apparent when a Moscow resident gives directions. "Turn left after Toyota, there you will see L'Oreal, and after Pepsi turn right … for the house where Sony is."
All rights reserved by Rossiyskaya Gazeta.