Russian language in the US gets a boost with Olympiada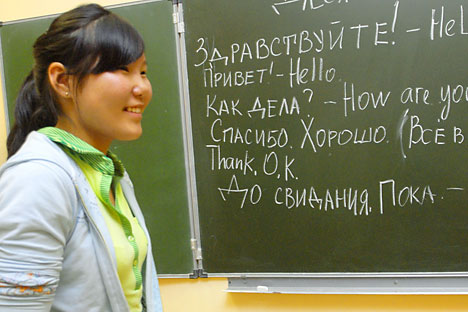 An event to promote the study of Russian among U.S. high school students is increasing in popularity.
Expecting the rest of the world to speak English is no longer acceptable, according to Dan Davidson, president of the American Council of International Education (ACIE). Davidson was speaking to a group of American high school students of Russian who were visiting George Mason University in Fairfax, Virginia, last week.
"It's not enough to start learning the Russian language," he said. "You have to stay with it. It pays off in ways you can't even imagine now." Davidson went on to explain that there are programs and funding dedicated to serious students of Russian.
The Olympiada of Spoken Russian, an educational event that began in the era of Khrushchev and Kennedy, has experienced renewed vigor in Virginia at a time when Russian studies has seen an unexpected uptick in popularity with students. The Olympiada has been held at George Mason (GMU) since 2004.
This year's Olympiada was combined with the 2011 World Festival of Russian Language, which for the first time was integrated with the competition. The Olympiada, sponsored by the ACIE, provides a forum for high school students to demonstrate their proficiency in Russian.
This year, a Russian delegation joined the festivities, led by Ludmila Verbitskaya, president of St. Petersburg University and longtime educational adviser to the president of the Russian Federation. "Having you with us enriches GMU," Alan Merten, the president of GMU said to Verbitskaya and her colleagues. Merten also acknowledged he had studied Russian in college, though perhaps not enough. "I took four classes when I could have taken eight," he said.
"The Olympiada of Spoken Russian" is the oldest Russian-American international collaboration in the field of Russian language study, according to advocates.
"I believe the Olympiada fosters a deep sense of connection between students studying Russian around the world, and the rich culture and history of Russia itself. This is a wonderful gift of that many students come to appreciate and value throughout their lives. There is no other event for students who are learning World Languages that can match the Russian Language Olympiada of Spoken Russian," said Betsy Sandstrom, teacher at Thomas Jefferson High School for Science and Technology and coordinator of the Olympiada.
The festival's schedule on Apr. 1 and 2 included cultural programs as well as competitions in Russian culture, literature, history and the performing arts. Winners of the first round of the Olympiada competition were awarded a trip to St Petersburg, Russia and an invitation to take part in a similar event there in October.
All rights reserved by Rossiyskaya Gazeta.