Russia's TV series called "The Indian"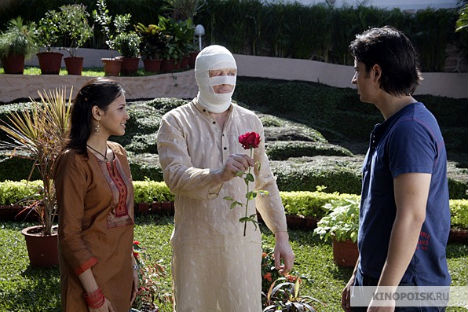 The Indian, a collaborative television series between Russia and India, has entered the 51st Monte-Carlo Television Festival's major Golden Nymph and Drama TV series awards.
The Indian is the only project that Russia and India have produced together over the last two decades.
Both Indian and Russian (Russia 1) television channels broadcasted the pilot episode last autumn. The launch of the TV series supported Dmitry Medvedev's official trip to India, where, according to the Voice of Russia, the Russian President visited a Bollywood film studio that hosted the shooting of about a half of the show's episodes.
Yuri Sapronov, General Director of Russian World Studios, which produced the series, said that the show drew an unprecedentedly large viewership of about three billion people. Satellite coverage helped reach audiences in India as well as in Afghanistan, Bangladesh, Sri-Lanka, Saudi Arabia, Thailand, the Emirates and other countries.
The series starred a number of well-known Russian actors, such as Marat Basharov, Yegor Beroyev, Yekaterina Rednikova and others. The plot is based on Black Cat's Smile, a novel written by Oleg Roy.
The main character is Anton Ponomaryov, a gifted surgeon played by Marat Basharov, who puts all his energy and time into developing a brand-new implant that would facilitate bone healing and could be used for successfully treating even the worst cases. Anton's colleagues, however, disapprove of his work, so Leonid Lazarev (Yegor Beroyev), Ponomaryov's long-time friend and a successful businessman, extends his helping hand. The former playmates establish a joint venture to complete research activities and start manufacturing implants. They go on to find an Indian company wishing to invest into the project.
The Indian has been nominated for four awards in Monte-Carlo and is to face competition for the best Drama TV series, Outstanding International Producer, Outstanding Actor and Outstanding Actress awards. Indian will be the only Russian project at the festival among almost 40 nominees from 21 countries.
All rights reserved by Rossiyskaya Gazeta.