Russian Seasons performed in India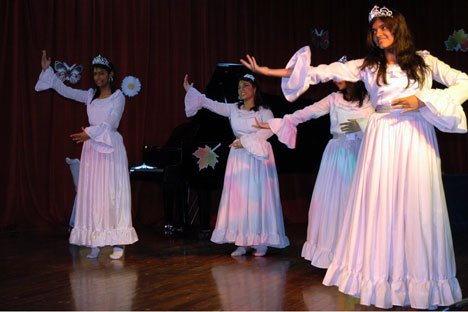 Source: www.russiancentre.org.in
A colourful Concert "Russian Seasons in Music, Dance, Art and Poetry" was organized at the Russian Centre of Science and Culture on April 8.

Students of the Institute of Russian Language, Students' Folk Group "Carousel", Art School, Vocal and Piano Classes of the RCSC and school-children of D.P.S. Dwarka took part in the Concert. Mr. Fyodor A. Rozovskiy, Director, RCSC, felicitated the students, who presented the cultural programme.

Ms. Larisa Galyautdinova, Opera Singer and Music Teacher, and Ms. Nadezhda Balyan, Piano Teacher of the Music School, guided the students in their presentation. The presentations were followed, at regular intervals, by slides on different vicissitudes of nature.

Seasons in Russia are very diverse. Interestingly, the Russian artists, musicians and poets have been longing to reflect the changing nature in their creative works. In each composition that the students presented one could see the author's perception of the world, his feelings and thoughts.

The winters in Russia are frosty or rather warm, sometimes the snowstorm comes and the strong wind starts blowing, at times it is sunny and the snow is melting. The days are short in winter but the time is going on slowly.

In summer the air is very fresh, one can breathe easily, as it is warm and there is a smell of different herbs, leaves, grass and flowers. Then the rain will wash the plants and sun will start shining again. Summer is a period of wedding celebrations and dances.

In the spring, the frosts have gone away. The snow melting has stopped. The nature has woken up from its winter sloop. When the spring comes, a new life is blossoming on the Earth. After a long and cold winter, as soon as the spring Sun starts warming up, the first flowers "snowdrops" appear from the still cold Earth.

There are two autumns in Russia, One is joyful and sunshine. It paints forests with the golden and purple colour. It is rich in harvests. In the mid-October, the Christian holiday of Holy Mother is celebrated.
The highlights of the cultural programme were P.I. Tchaikovsky's "Evening", a duet by Larisa and Nadezhda, accompanied by Olga Titaeva, Anton Rubinshtein "Mountain Peaks" performed by Larisa and Nadezhda, accompanied by Olga Titaeva, a dance item "I will go out" by students of folk songs and dance ensemble. "Carousel", S. Rahmaninov's "Lilac" performed by Larisa, accompanied by Olga Titaeva, P.I. Tchaikovsky's "Seasons. White Nights", played by Olga Titaeva, S. Rahmanimov's "By my window" performed by Laris and Nadezhda, accompanied by Olga Titaeva, a Dance. Maslenitsa circle dance, performed by the folk group "Carousel", a folk song "My dead Maple" performed by Larisa and Nadezhda, accompanied by Olga Titaeva, and a dance: Girls circle dance with shawls by students of the folk song and dance ensemble "Carousel".
All rights reserved by Rossiyskaya Gazeta.