BRICS summit pushes for IMF reform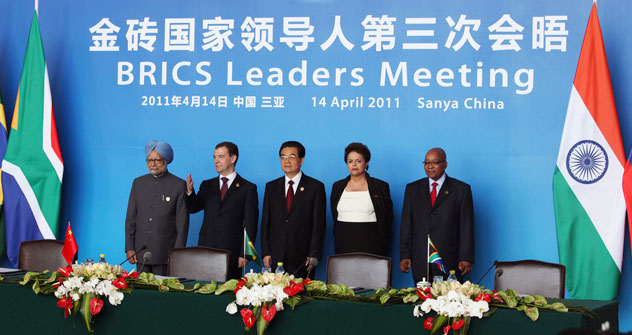 India's Prime Minister Manmohan Singh, Russia's President Dmitry Medvedev, China's President Hu Jintao, Brazil's President Dilma Rousseff and South Africa's President Jacob Zuma. Source: AP
BRICS leaders have agreed to prepare a package of proposals concerning the reform of the International Monetary Fund and the World Bank, President Dmitry Medvedev announced during a summit of the "big five" in China's Sanya.
"We talked about the necessity of further reform of the international financial system," Medvedev said addressing the participants of the summit which has brought together Brazil, Russia, India, China and South Africa.


"On this issue, as well as the volatility of global prices of agricultural products, we have taken a decision which reflects the consolidated position of the BRICS countries," the president explained. He added that the set of concrete proposals will be discussed at the G20 summit in Cannes in November this year.

Another major issue was economic partnership. The leaders came up with a plan for the development of economic ties and for strengthening cooperation between the civil society institutions of the countries. Medvedev believes the document has good prospects, noting that Russia played an active role in drafting the plan and intends to play a no less active part in its implementation. He specifically pointed out new ways of cooperation within the G20 for which the plan provides.


The consequences of the devastating earthquake in Japan and the turmoil in North Africa were high on the agenda. The BRICS leaders were unanimous in their stance on civil conflicts in African countries. "Our common opinion is that the problem should be settled by political and diplomatic tools and not by force," the Russian president outlined.

As for natural disasters and nuclear crises similar to what Japan has experienced, Russia has come up with an initiative to work out a mechanism of mutual aid in case of emergencies. "For more than a month, the eyes of the whole world have been on the tragic events in Japan. Russia and the other participants of the forum once again express their empathy to the Japanese people and government," Medvedev said.


In his address, he also hailed the progress of the BRICS partnership over the last year. He underlined that all its members are also members of the United Nations Security Council, which, in his opinion, will only contribute to its further development and help increase its weight on the global arena.


"For the last year, our forum has achieved significant progress in developing political dialogue. There is a lot more mutual trust and the level of cooperation in international affairs, including within the Security Council, has risen," Medvedev said.
All rights reserved by Rossiyskaya Gazeta.