Russian Helicopters head for IPO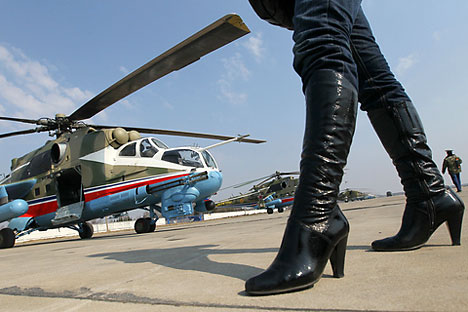 Helicopter Mi-24. Source: RIA Novosti
State holding Russian Helicopters is headed for the London stock exchange. The company plans to offer 30% of its shares for sale, in return for around $500 million. Experts call this a landmark event, with a Russian military-industrial company going public.
In four years, Russia plans to take up 17% of the global helicopter market and become the third largest chopper manufacturer. Overall industry growth is conducive to this – in the nearest future, the global market may grow by one third.
So it's fair to say that Russian Helicopters have picked the right moment. The holding, which brings together all of Russia's chopper construction enterprises, is performing well today and has reliable consumer markets, said industry analyst Artyom Lavrischev in an interview for the Voice of Russia.
"Last year the company supplied around 214 helicopters to its clients, the majority of them for export. Meanwhile, it sees rather significant prospects for the further growth of production and sale of its helicopters onto Western markets. The core purchasers are India, China, Saudi Arabia and Latin American countries."
Notably, only one member of Russia's aviation industry – the Irkut Corporation – has floated its shares on the stock market. However, Russian Helicopters is also the first representative of the Russian military-industrial complex, Artyom Lavrischev stresses.
"Russian Helicopters' IPO is a landmark event. This will be the first public company listed on the London Stock Exchange from our military industry. At present, there are no such assets being traded on stock exchanges, including in London. The company plans to place some 25-30 percent of its shares, which is a pretty good indicator for investors."
The holding is already meeting with investors and analysts in Russia. International road shows are expected to kick off at the end of April and take place in Switzerland, the UK, Germany, Sweden, France and the USA. The IPO is slated for early May.
All rights reserved by Rossiyskaya Gazeta.