Mixing Ramayana and Russian lullabies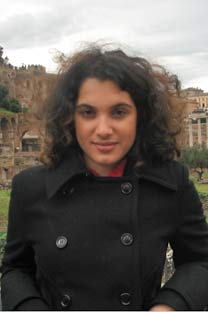 American-born Confused Desi (ABCD)! This is an expression urban Indians are familiar with, but not many know about children born of mixed Russian and Indian parentage who experience a similar feeling of being torn between two very different cultures. With the Indian community growing in Russia, there are an increasing number of Russian-Indian families and children of mixed ethnic and cultural heritage.
Being a person of Russian-Indian origin myself (my father is an Indian and my mother a Russian), I have often pondered on questions of identity and grappled with the mingling of cultures.
I talked to some of Russian-Indian people who shared their stories with me, and I found that while we agree on some (major) points, there are still a lot of nuances and peculiarities that depend only on an individual.
My sister and I grew up in an atmosphere of two cultures. Our father told us Ramayana stories and mother sang us Russian folk songs as lullabies when we were kids. In our apartment, there are both icons of Christian saints and Krishna miniature statues. Judging by my childhood memories, they did have disagreements about lifestyles and methods of upbringing that reflected their different cultural conditioning. For example, my father enjoyed gathering large companies almost every weekend, parties where parents bring with them even very young children, a common practice in India, but probably not as common in Russia where quiet family get-togethers are normally more popular than social events on that scale. My mother felt sometimes it was not her cup of tea, especially as she didn't speak Hindi. Also, most of Russian families we know don't have such an intense communication with their extended family. As an Indian, my father, however, felt it was important to share even small details of our everyday lives with our uncles and aunties and their families. Congratulating a family member on their birthday or anniversary was pretty much of a solemn ritual which made me feel somewhat awkward as a child but filled me with pride and respect later in life. Those were minor differences, and my parents certainly didn't want to inflict them on me.
But still as a child I had to learn to find a balance between two different lifestyles. It was not always easy because of the strong influence of my environment - most of my friends are Russian and so was the cultural background that I was brought up in. My father encouraged my interest in Indian music and films, but he didn't insist on it too much, and since I don't speak Hindi or Telugu (the language of his state Andhra Pradesh) it takes a conscious effort to understand things that are familiar to most Indians.
25-year-old Anita with her husband
This feeling of being culturally conflicted is shared by other Russian-Indians. "I feel as an Indian in Russia and as a Russian in India," says the 25-year-old Anita Tulasi. She says that in her family her father sometimes felt pressured because her mother's influence was dominating. However, her mother still supported her initiative to speak Telugu and her younger sister's aspiration to master classical dances. Besides, her father stood up for the values he strongly believed in. "In Russia sometimes parents are ready to give their children everything on a silver platter – money, cars. In India it's considered that one has to work hard to get something. So my dad drilled this knowledge into us, he spent a lot of time helping us with our homework. And my Mum was sometimes too soft on us". Now she has a child of her own, and even though her baby is just five-month-old she is convinced that she'll imbue her son with the same sense of responsibility and love for learning when he grows up. Another important difference, in Anita's view, is the attitude towards family values. "In Russia the approach is lighter, if something doesn't work out, divorce is an option. In India children are taught from an early age to go through fire and water for the sake of one's family". Anita's husband is also of mixed origin; his father was from Tatarstan, and as Anita emphasises, his traditional Eastern upbringing and mentality was one of the things that attracted her to him. "Sasha and I were good friends for some time. I dated another guy then," Anita tells me with a smile. "But he didn't give up and courted me for a long time, just like in an Indian film. And finally he won me away from him and we married. Also we share the same family values. I have a lot of friends but I haven't met any person who would cherish the family the way I do."
Not all Russian-Indians feel the same way. For instance, the 21-year-old Lalit and his brother, 19-year-old Krishna, feel psychologically more Russian than Indian. "It's beautiful there, and people are very friendly and nice, but it is a different culture, and I don't feel like living there," says Krishna.
21-year-old Lalit and his brother, 19-year-old Krishna with their Indian father
Unfortunately, in many cases stereotypes about each other's culture continue to persist. Lalit mentions that many people in Russia judge Indians by glossy Indian films which do not reflect reality. Krishna says that Russians often think Indians are all yoga adherents. They feel this ignorance is mutual. In India also, they say not enough is known about Russia, and for many people there still exists the picture of bears walking along Russian streets!
Even before striking a conversation with someone there is another factor that infallibly draws attention to the mixed-heritage individuals in a shop, beauty parlour, hospital, sometimes even in the street.
As a rule, most people I've met for the first time paid attention to my looks and their immediate question was where I was from. The funny thing is that almost no one can pin down my origin. They are not sure whether I am from Georgia or Italy or the Middle East. When I share those memories with Anita, she says she can pass in many countries as a local until she starts to speak. She says most Russians have a very warm attitude towards India, and she's always taken those signs of attention as a compliment. Lalit also doesn't really remember any instance when his origin made him feel uncomfortable, except for his name that was often associated with a Russian singer Lolita which, he says, is a bit annoying. "There is mostly curiosity and positive interest, which is not a bad thing," he says.
It's hard to say what my views and those of other Indians were if it were another country, which had a tense political relationship with Russia.
For the most part, this cross-over of cultures has become a significant part of my life and has given me additional advantages of feeling special, belonging to two different worlds at the same time and being able to see a broader picture of the culturally diverse world we live in.
All rights reserved by Rossiyskaya Gazeta.