Collective research "Russia: The Challenges of Transformation"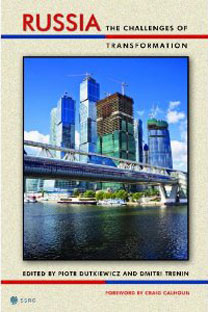 Collective research Russia: The Challenges of Transformation, edited by Piotr Dutkiewicz, Professor of Political Science at Carleton University and the Valdai Club member and Dmitry Trenin, Director of the Moscow Carnegie Center is to be released this April.

This book is unique due to the amount of collective experience in Russia and Russian affairs gathered by its editors and authors and its concept of "re-thinking" Russia. Leading researchers and intellectuals, who come from Russia, Britain, Canada, Germany, Ukraine, and the United States, engage in an intense dialog to examine the current state of affairs in Russia, Russia's future and challenges of the social, political, and economic transformation.
Despite different backgrounds and ideas advocated by the authors they are unanimous in the rejection of social and political conservatism and isolationism in foreign affairs, and in underlining the need to bring forward changes that would better integrate Russia with the international community and help it avoid stagnation and marginalization.

Valdai Club members have extensively contributed to this volume, among its authors one can find Richard Sakwa, Associate Fellow of the Russia and Eurasia Programme at the Chatham House; Timothy Colton, Professor and Chairman, Department of Government, Harvard University and the Valdai Club Advisory Board member; Alexander Rahr, Program Director, Russia/CIS Center, German Council on Foreign Relations; Andrew Kuchins, Director and Senior Fellow of the Russia & Eurasia Program at the CSIS as well as many others.

The book was anticipated in academic circles and prior to its release it received many positive reviews that highlighted its novelty and depth of ideas promoted by the editors and contributors:

"For seventy years, Western policy-makers and social scientists obsessed anxiously over the Soviet threat. For twenty years after the collapse of the USSR they have underestimated the importance of Russia. It is time to move past both exaggerated anxiety and relative neglect, as understanding Russia today is crucial to understanding what sorts of futures are open on a global scale.

"The distinguished social scientists in this timely and important book make clear that neither politics nor economics alone holds the key to Russia's future, presenting critical perspectives on challenges facing Russia, both in its domestic policies and in its international relations, exploring how global order—or disorder—may develop over the coming decades. Russia still faces enormous challenges in achieving stable economic growth, in delivering social services, and maintaining security throughout an ethnically diverse and far-flung territory, but how Russia faces these challenges is not just a local question, it is a question of global significance."
– From the foreword by Craig Calhoun, President Social Science research Council, USA.

"Each society embodies multiple possible futures. Those of Brazil, Russia, India, China, and South Africa may have the greatest consequences given the radical alternatives before them and the global consequences of those trajectories. Of those, Russia's may be the hardest to anticipate—for reasons this volume elaborates with a diversity of perspective and cumulation of insight rarely assembled. At the same time, this distinguished group of authors offer grounds for hope with their realistic advice around global dialogs and critical assessment of Russian capacities and challenges. This collection not only invigorates the social scientific imagination, but also stirs global public sensibilities beyond financial insecurities."
– Michael D. Kennedy, author of Cultural Formations of Postcommunism.

"Russia mobilizes an all-star lineup of world specialists to break from academic habit and think more about Russia's future than its past. Here, readers will find fresh perspectives, intellectual heft, lively prose, and bold challenges to many common assumptions. Regardless of one's' political, national, or academic persuasion, this is a volume to be reckoned with."
– Henry E. Hale, author of The Foundations of ethnic Politics: Separatism of State and nations in Eurasia and the World.

"Piotr Dudkiewicz and Dmitri Trenin have assembled a veritable 'who's who' of Russian, European and North American specialists to examine the Russian state and society at a critical juncture in its long transition away from communism toward a destination that is still inchoate. Collectively, the authors manage to avoid several common misconceptions about Russia in the Western literature: contemporary Russia is not simply a 'kleptocracy' that is too weak and marginal to matter in global geopolitics; neither is it simply the traditional tsarist empire reborn in a new guise. Instead, this volume convincingly portrays Russia as a complex, troubled, yet influential great power. Anyone interested in the future of Eurasia should read it."
–Stephen E. Hanson, author of Post-Imperial Democracies: Ideology and Party Formation in Third Republic France, Weimar Germany, and Post-Soviet Russia.
All rights reserved by Rossiyskaya Gazeta.