YouthSat is up and running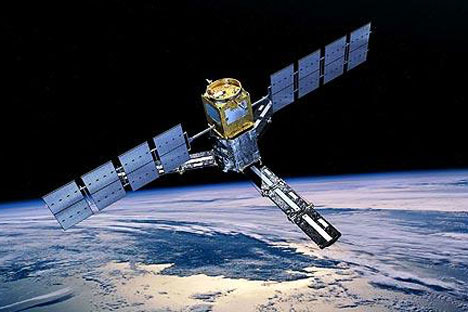 The Russian-Indian satellite launched last week to study solar energy is functioning normally.
"YouthSat's condition is normal," the Indian Space Research Organization (ISRO) recently reported.
The scientific satellite YouthSat, with a lift-off mass of 92 kg., was launched into orbit on 20 April by an Indian polar satellite launch vehicle (PSLV). This spacecraft will collect information about solar flares and their influence on the Earth's upper atmosphere.
The decision to implement the Russian-Indian YouthSat satellite project was taken in January 2007 during a visit by then President Vladimir Putin to India. The project is meant to develop contacts between young people in both countries. YouthSat's mission is to transmit information to Earth that will help us understand how variability in solar activity affects our planet's upper atmosphere.
The YouthSat launch was originally scheduled for the spring of 2008, the Year of Russia in India. Equipment for the spacecraft was brought from Moscow to ISRO headquarters in Bangalore in August 2008. After conducting tests, the Russian "stuffing" was supposed to be loaded into the technological module and launched into space that fall. Then the launch was postponed until the end of the year, but even then room could not be found for the satellite on a shuttle. YouthSat did not wind up in the launch plans of either 2009 or 2010. Finally, on 20 April 2011, an Indian PSLV, which blasted off from the Satish Dhawan Space Center in the country's southeast, successfully launched three satellites into orbit, including the Russian-Indian YouthSat.
According to the ISRO press service, YouthSat's payload includes two Indian-made devices: a Radio Beacon for Ionospheric Tomography (RaBIT) to map the total electron content of the ionosphere; and a Limb Viewing Hyper Spectral Imager (LiVHySI) to perform airglow measurements of the Earth's upper atmosphere. On April 29 a third, Russian-made, device is slated to be added: SOLRAD, which will monitor solar X- and gamma-ray fluxes, was created by nuclear physicists from Moscow University.
Commands to the satellite will be relayed through ISRO's Bangalore-based network of telemetry, tracking and remote-control stations and through ground stations for satellite communications in the city of Landau, as well as on Mauritius, in Indonesia, and at the North and South poles. Data received from the satellite will be processed at a space data center in the town of Bilalu, near Bangalore. Information from the satellite will be made available to specialists from both Russia and India.
All rights reserved by Rossiyskaya Gazeta.