CSTO lacks clear ideology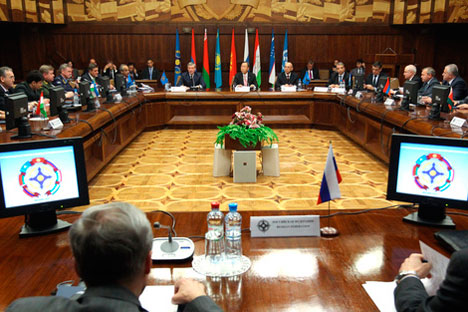 Until the CSTO finds a way to clearly define itself, it will never be able to develop partnerships with other alliances.
Members of the Collective Security Treaty Organization (CSTO) have finished drawing up a normative-legal foundation and plan this year to step up combined efforts to fight illegal migration and drug trafficking. They also intend to develop mechanisms for crisis management and the application of joint peacekeeping forces. CSTO Secretary General Nikolai Bordyuzha outlined these plans recently at a roundtable devoted to the discussion of a system of collective security.
"To date all CSTO member-states [Russia, Belarus, Armenia, Kazakhstan, Tajikistan, Kirghizstan and Uzbekistan] have allocated national contingents for the Collective Peacekeeping Forces, which today number around 4,200 men," said Bordyuzha.
In addition to these troops, the CSTO's Collective Rapid Reaction Force (KSOR), which numbers some 17,000 soldiers, is actively engaged in preparations for carrying out missions. This year they will conduct exercises in Armenia, Kazakhstan, Kyrgyzstan, Tajikistan and Russia. But at the roundtable, many experts spoke frankly about the insufficient authority of this military-political union in the international arena.
"NATO sees the CSTO as an organization for the 'conservation' of authoritarian regimes," said Tatiana Parkhalina, director of the Center for European Security. She noted that late last year, NATO Secretary General Anders Fogh Rasmussen was ready to establish relations with the CSTO, but the United States and a number of Eastern European countries came out against this idea. Parkhalina said that for the CSTO to establish relations with Brussels, it would be necessary to begin implementing a "plan of small steps"—to undertake a collective assessment of security threats similar to the one conducted by Russia and NATO, and to gather members from the parliamentary assemblies of both organizations in a joint session.
Also in agreement with the thesis that "in the West people do not understand what the CSTO wants and do not consider this organization effective" was senior lecturer Yulia Nikitina of the Moscow State Institute for International Relations (MGIMO). Nikitina said that for the CSTO to increase its role in the international arena, it would have to develop a clear ideology, one specifically based on the idea of preserving stability in the region.
All rights reserved by Rossiyskaya Gazeta.