Russia invests in hi-tech health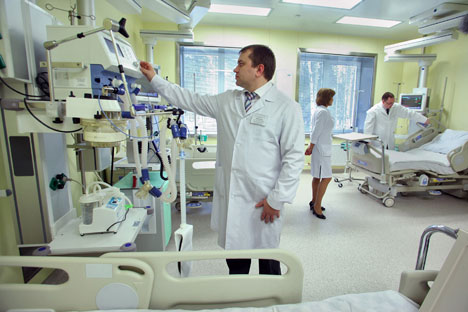 Russian hospitals are famously run down and underfunded, but reform has taken a front seat for both Putin and Medvedev.
Russia will allocate $159.7 million to provide citizens with state-of-the-art medical equipment at polyclinics spread across 55 of Russia's regions.

The largest chunk of the money, some $16.2 million, will be spent on the Krasnodar region; with Moscow and St. Petersburg, the two most populous cities in Europe, receiving the next largest sums of $12.5 million and $12.8 million, respectively.

The reform of the entire healthcare and pharmaceutical sector has been moved to the top of the political agenda as the Kremlin extends its attempts to improve the lives of Russia's citizens and diversify the economy.

During a recent inspection trip to the city of Bryansk, located on Russia's border with Ukraine, Prime Minister Vladimir Putin said that the development of domestic hi-tech medical equipment production should be a priority for the Russian government and regional governors. He said that the government was planning to spend a total of $4.8 billion on the development of hi-tech medical treatment in 2008-2013.

Progress has already been made in some sectors. The polyclinic management system has been overhauled, doctors' salaries have been hiked and a new ambulance fleet was purchased. The number of Russian citizens who received hi-tech medical care had increased fivefold to 290,000 people over the last five years, Putin said. But there is still much to do.

"To reach the EU level by 2020, Russia needs to increase healthcare spending by around 15 percent a year," said Lev Yakobson, first prorector of the Higher School of Economics' National Research Institute.

One main thrust of the reform is to develop the domestic pharmaceutical and medical equipment production industries. The state has already earmarked $1.4 billion to support the development of the domestic manufacturers of medical equipment. The Kremlin has launched a stick-and-carrot campaign to encourage major international pharmaceutical companies to increase their investment in Russia. The stick is the increase of import tariffs on medical products, and the carrot gives those companies with domestic Russian production tax breaks. And the market is not one the global industry wants to ignore: Russia imported $9.2 billion worth of pills and other medicines in 2010.

The scheme has already scored two big successes. The multinational pharmaceutical firm AstraZeneca started building a new $150 million production plant and R&D facility in Kaluga, while Finland's Orion said it is in advanced talks to enter the market via acquisition. The two companies follow the likes of Novartis and GlaxoSmithKlein, which already have production facilities in Russia.
All rights reserved by Rossiyskaya Gazeta.