London gallery showcases young Russian artists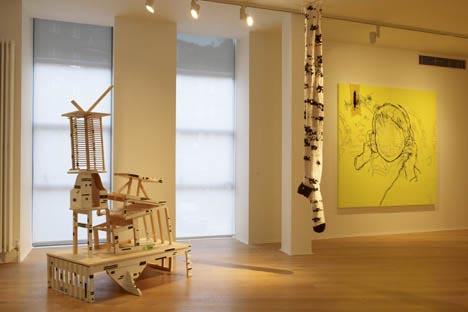 Photo: Courtesy of Calvert 22.
Although still finding its way, Calvert 22 is giving new artwork a home where it can be seen.
The first thing you notice, when you walk into Calvert 22's new, light-filled exhibition space, is a giant, woolen sock. The dangling stocking, with knitting needles still attached at the top, echoes the ubiquitous Russian silver birch trees. The other work by artist Olga Bozhko, a wooden sculpture called "Tree," also mixes domestic items (IKEA-style pieces of furniture) and natural images.
The sock is part of an exhibition, entitled "Practice for Everyday Life," of work by emerging Russian artists in London's exciting Calvert 22 gallery, which celebrates its second birthday this month. Eight very different artists are represented in Calvert's two exhibition rooms by a scant handful of works that range from otherworldly oil paintings and neon yellow embroidery to wall-size video and baffling installations.
The gallery is on Calvert Avenue, which runs between the glorious late 19th century Arnold Circus, part of the world's first ever council estate, and vibrant Shoreditch High Street. Calvert's purpose, according to new director Natasha Plowright, is to showcase works from Russia and Eastern Europe, exploring "the reality of cultural output hidden behind a curtain of myth and propaganda."
Nadim Samman, one of Calvert's previous curators, currently co-curating the Venice Biennale, praises the not-for-profit gallery's bold concept and location: "It's in the middle of the East End, where all the edgy, young galleries are, and for free so everyone can see it." He feels that Calvert's founder, Russian corporate financier Nonna Materkova, is "giving something to the UK art scene, as well as putting money into the promotion of Russian art in the UK. A pure vanity project would have been in Mayfair where no one would go and see it."
The new exhibition's punning title is drawn from the work of cultural critic, Michel de Certeau. This is an exhibition that deserves a second glance to tease out the layers of meaning. Visitors may be repelled by Arseniy Zhilyaev's masturbating woman, but find a much subtler set of video installations in the basement. Perhaps the most interesting is Taus Makhacheva's two-screen work, "Rehlen." Makhacheva is from Dagestan and the word means "flock" in the local Avar language. The short film, shot near the Dagestani mountain village of Ahalchi, shows a flock of sheep in a clear, wintry landscape. Slowly the observer realizes that the "strange organic creature" near the sheep is in fact a person on all fours under a traditional shepherd's coat. "The piece is about being an outsider," said Makhacheva, "about the problematics of social integration."
Commenting on the work of fellow video-artist, Alexander Ditmarov, showing on a neighboring wall, Makhacheva appreciates a close-up film of a solo billiards game, using balls so chipped they barely roll, seeing it as a commentary on Russian society: "It doesn't work because it's broken."
Another of Ditmarov's videos, entitled "The Exit is Not Allowed" satirically sets footage of a chairlift in summer to stirring, martial music. Like several of the works here, it seems to have gained an unnecessary layer of portentousness in translation. The title is clearly taken from the cyrillic sign at the foot of the chairlift "Vysadka Zapreshena," becoming as strange and metaphysical out of context as "mind the gap."
Early critics of the show feel it lacks a common conceptual thread, other than the fact that the artists were all young and Russian. Laura McLean Ferris commented in the Independent: "Each artist's practice is wildly different and as such there's a feeling of disconnect in the exhibition," complaining of "generalized conceptualism." Plowright explains that the curators saw the link precisely as a common "engagement with an international language of art."
The artists claim to be answering questions posed by western artistic traditions: Anya Titova's metal and plastic shelves are a "critique of minimalist sculpture" while Zhilyaev's threadbare installation "Words" (involving old furniture and a homemade porn film) is a "post-soviet interpretation of existentialist philosophy." No wonder some critics have found it hard to take seriously.
Samman is less skeptical. He views the eclecticism of this exhibition as "a snapshot across a range of disciplines;" he finds echoes of constructivist architecture in Sergey Ogurtsov's delicately geometric works, made from books with folded pages. Samman even sees the evident pretentiousness (the works are full of references to Sartre, Freud and Artaud) as a celebration of a distinctive Russian tradition of "kitchen table metaphysics," singling out another video installation by Ditmarov in which young artists rephrase influential texts: "In Britain nobody talks about ideals and what it means to be an artist anymore."
Calvert 22's next exhibition, due to open on June 29, a month after this one closes, will focus on the Moscow Conceptualist School, featuring such famous names as Ilya Kabakov and Lev Rubinstein. This young gallery may not have got everything right yet, but it is clearly one to watch.
All rights reserved by Rossiyskaya Gazeta.