Russian demographics not helped by state involvement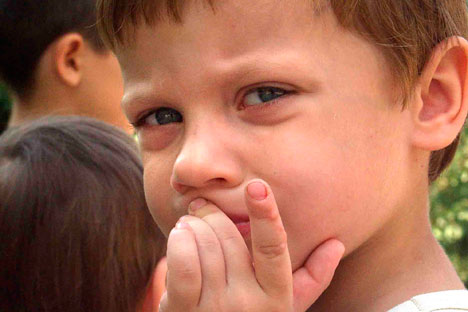 Under new rules put in place in Moscow, parents are encouraged to turn in their neighbors and preschool teachers must watch for signs of abuse.
Russian parents are concerned with the increasingly close attention being paid to their children by civil servants. Although official statistics show that fewer people are being deprived of their parental rights, (56,000 in 2010, down from 74,000 in 2008) there is a strong sentiment within society that the state is intent on interfering more and more in family life.
There are, indeed, grounds for this concern. Official statistics do not indicate the number of children removed from parental care by child protection services before the case goes to court; no one knows how often this is happening across Russia. Yet each instance of such removal of children is cause for scandal and engenders heated discussions both online and in the media. Since no explanation is given as to when and why children may be removed from families, panic is mounting and no clarity is emerging.
The situation was exacerbated recently when Russian regional authorities introduced new regulations on the protection of children. For instance, all Moscow preschool teachers now have to inspect children for signs of physical abuse, report to the authorities if parents pick up their children drunk, and organize art competitions that, according to the authors of the regulations, will help establish the level of wellbeing in the preschoolers' families.
Parents are increasingly being asked to listen to what is happening in neighboring apartments and report any "noise generated by serious argument" to the police. Many conscientious citizens are expected to turn themselves in; parents have been given questionnaires developed by the Moscow Education Department that include queries such as "Would you hit your child in a public place?"
It is not surprising that people are concerned about the state's sudden interest in children and ear that child protective services, which are invested with unspecified powers, could remove children from their families for no real reason.
Yury Kotov, Executive Secretary of the Moscow Commission for the Affairs of Minors and Protection of Their Rights, finds nothing unusual about the state's activities: "We have signed a UNICEF agreement, so all this is part of the policy implemented by the city."
The situation is aggravated by the country's demographic tendencies. While civil servants have an answer to any question the people might ask, their rhetoric is defeated by hard facts.
"According to demographic analysts, population growth can be ensured only if 60 percent of the country's families have [at least] three children. At present, only 6 percent of Russian families do so. For wealthy Europe and the United States, this figure is not much higher, at only 13-15 percent," said Anatoly Antonov, who holds a chair in sociology and demographics at Moscow State University. "And while large families are becoming so valuable, different sentiments are prevailing in our society. Instead of providing support, the modern state is beginning to discriminate against such families."
Antonov thinks that children are removed from families under a specific interpretation of the International Convention of the Rights of the Child by civil servants primarily concerned with material benefits. According to him, until the family becomes "a state-independent institution," the problem will remain.
All rights reserved by Rossiyskaya Gazeta.