An umbrella to shield from space threats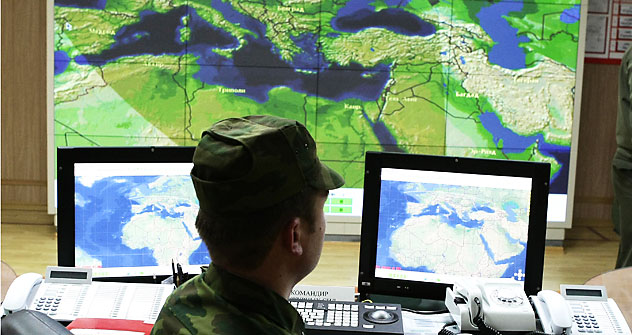 An officer seen at a control center of the next generation Voronezh-DM radar station, a missile warning system. Sorce: Itar Tass
Defence Russia's anti-ballistic missile defence system can cover Eastern Europe and the Black, Baltic and North Seas,
Russian President Dmitry Medvedev has issued a decree to create Aerospace Defence Forces in the country before December 1 this year. The aerospace forces will work under a single command-and-control system to effectively ward off potential missile threats. It will be equipped with means to fight supersonic unmanned planes and non-nuclear missiles, says Russian Aerospace Forces Commander, Lieutenant General Oleg Ostapenko. The forces will be capable of destroying enemy targets in near space and could be used in the future for defence from stray asteroids, says Ostapenko.
"Russia, for much too long, placed its bets on the enemy not starting a war against us because people here thought our nuclear-missile shield would guarantee that no one would think of doing anything of the sort," says Konstantin Sivkov, Vice-President of the Academy for Geopolitical Issues. "We can see, however, that this didn't stop Georgia, which perfectly understood that we would not use our nuclear-missile shield in conventional warfare. Nuclear-deterrence forces need to have reliable protection against air and space strikes. Therefore, creating aerospace defence forces is extremely necessary," he says.
Under this programme, all the systems in Russia that monitor near and outer space, the country's and its allies' airspace, as well as their borders, will be integrated. This includes a missile warning system, radar stations in northern Russia, the Murmansk and Leningrad regions and the Komi Republic. This will also include a radar station currently under construction in the Kaliningrad region, operating radar stations in Hantsavichy (Belarus), Armavir in the Krasnodar region, Gabal (Azerbaijan), Balkhash (Kazakhstan) and near Irkutsk. It also includes space missile warning system satellites in high-elliptical and geosynchronous orbit, a space surveillance system with radar and optical-electronic complexes in many different areas of the country and abroad such as the ones outside Nurek, in Tajikistan.
In addition, the aerospace defence will include DON-2N, a unique radar station complex outside Moscow, which will be able to detect objects ranging from five centimeters at hundreds of kilometers in the air. The station provides security for Moscow and the entire surrounding region, and also wields anti-missile/anti-air S-300 and S-400 air-defence systems. A S-500 air-defence system will also be created and armed with missiles capable of intercepting ballistic targets in near space. What's important is that the western, southern, central and eastern military districts' anti-aircraft defence complexes, as well as their aviation fleet of interceptor aircraft, will be given to the aerospace defence forces for operational control.
The aerospace forces command must be subordinate to the general staff. Some experts say that the strategic missile forces should become a part of the aerospace defence forces. This means that should something happen and a signal from the missile warning system about an attack on Russia by enemy strategic missiles is received, a counter strike can be made without delay.
Experts have also been discussing and exploring how Russia's aerospace defence system can be integrated with Europe's anti-ballistic missile system.
The space forces' chief said in April that Russia's anti-ballistic missile defence system could cover Eastern Europe and the waters of the Black, Baltic and North Seas. "Our anti-ballistic missile system's contribution would be in destroying ballistic missiles launched at targets in Russia, border regions between Russia and its neighboring countries and European states," he said. He clarified that destroying missiles targeted toward Europe would be possible thanks to a joint military control centre that is being discussed as part of the European anti-ballistic missile system.
All rights reserved by Rossiyskaya Gazeta.