Moscow restaurant scene moves from stolovaya to sushi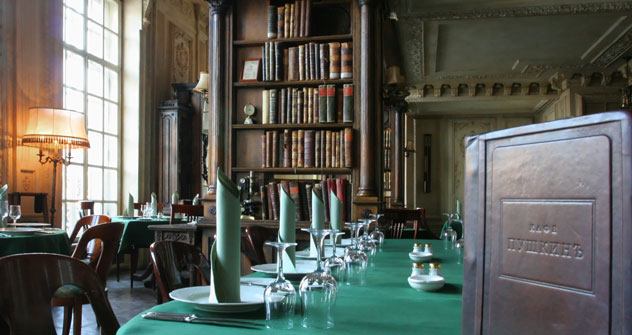 "Library" hall at Cafe Pushkin. Source: ITAR-TASS
After a sharp turn from mass-produced cafeteria food to restaurants to seen and be seen, Moscow's dining scene today is more focused on diversity and quality.
One of the most noticeable ways Moscow is starting to feel like Europe's biggest capital is in its rapidly changing restaurant scene. During the Soviet era, food was generally standardized and mass-produced for cafeterias in schools and office buildings or home grown at the dacha. It was hard to get foreign products and imitations were of poor quality; Ivan Shishkin co-owner and chef at Delicatessen bar and restaurant in Moscow, said that Soviet coffee had a reputation for being almost undrinkable, and that "burgers" used to be made with ground beef that had been dissolved in water.
Ukrainian cuisine restaurant "Natalka", Moscow, 1972. Source: RIA Novosti
The changing expectations of restaurants in Moscow may have started with the first McDonalds. It had a line stretching down the street, and its success resulted in the appearance of other fast food chains. In the late 1990s, luxury restaurants began to appear, as New Russians and oligarchs needed a place to show off their success. Restaurants such as the popular Café Pushkin and, later, Turandot, (the brain-children of Russian restauranteur Andrei Delos) enticed the nouveaux-riches with their elaborate 19th century-inspired decor and traditional French and Russian cuisine.
Although these restaurants were successful, Shishkin says that the 1990s and early 2000s were a time when there was "a lack of understanding about good food," where the most important thing was showing off and spending money. Today, all this has changed. "Putting on all your jewelry and going out and flashing your money is considered to be very vulgar," said Muscovite Ekaterina Drobnina.
Today, Russians are more interested in different cuisines and well-crafted meals. Shishkin's restaurant Delicatessen and others cater to well-traveled Russians who know about food. According to Shishkin, these places are informal and intimate, where customers come to relax and feel good. Delicatessen, he said "caught the wave" of new dining where couples, families and businesspeople all mingle together over food and drink. He believes that today's customer is more discerning and is not prepared to pay for a bad experience: At Delicatessen the four owners work with the staff to serve customers. The food is tasty, but reasonably priced.
"Bon Voyage" restaurant situated on a boat. Source: RIA Novosti
According to Ian Zilberkweit, Executive Chairman of Le Pain Quotidien/Khleb Nasushniy (Our Bread) bakery group in Russia, increased competition between companies has also improved the restaurant culture in Moscow. He says that with more products and restaurants available, Russians are able to choose between establishments, which drives up quality as businesses compete for customers. Furthermore, he pointed out that establishments like Le Pain Quotidien have actually benefited from the recession: Le Pain Quotidien has seen growth of more than 30 percent as Russians, rather than wasting their money on inexpensive restaurants, sought out high-quality products in order to "treat" themselves.
"We've also seen an increase in the number of businesspeople who come in to our cafes—they want good food, a casual place to hold a meeting and they want it to be reasonably priced," Zilberkweit said. In order to attract this new type of customer, establishments are seeking to improve quality. At the Le Pain Quotidien factory just outside of Moscow, production is centralized to maintain standards, and all the bread products are made by hand by chefs and bakers who have been trained using traditional artisan techniques. At Delicatessen, Shishkin says that he spent months developing the perfect kind of burger.
However, something that is difficult to change is consistency and service—"This is the single most difficult thing in Russia," said Zilberkweit. Le Pain Quotidien interviews four people for every one position, but even then it is possible to be served by a dour waiter or to have to wait too long for service. The old adage "the customer is always right" is something that has yet to reach Moscow.
Japanese cuisine restaurant NOBU. Source: RIA Novosti
Shishkin says that, in this regard, Moscow is still behind Western Europe. "In the West, you can be fairly certain that wherever you go to eat, you will have good food and service. Here you can never be certain, it is like a lottery; just because somewhere is good twice, it doesn't mean that it will be good the next time. In Moscow you have to get recommendations; abroad you can just walk down the street and pick a place," Shishkin said.
Nevertheless, Moscow has caught up to Europe so rapidly in the restaurant business that likely it will not take long for quality, consistency and service to reach European levels. Equally encouraging is that the new trend toward friendly and casual dining has not prompted clones of European restaurants. Competition has inspired establishments to try new things in order to entice customers in, and it is increasingly possible to find a modern twist on a Russian or European classic on a menu rather than the ubiquitous Caesar salad. The final frontier in Moscow's food scene seems to be the carry-out section of the market but there is every reason to believe that before long, take-away will not mean a hot dog from a kiosk.
All rights reserved by Rossiyskaya Gazeta.